A short while ago, on the way to the bank we stopped by at our local liquor store.
Guess what.
Again, the cheapest wines were the Australian wines.
Say what, are those descendants of the prisoner detritus from England dumping or what?
This time, we picked up Banrock Station 2006 Merlot from South Eastern Australia for $6.99 (750ml).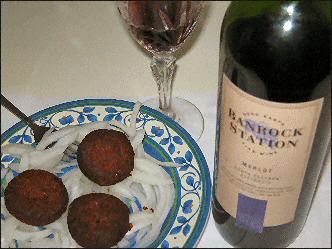 As we feverishly type away, we are sipping the Banrock Station 2006 Merlot with Vegetable Shami Kebab and Indian Sev mixture on the side.
The Banrock Station Merlot seems to be sweeter and stronger than the Jacob's Creek Shiraz Cabernet we tried the other day.
We like the Merlot better than the Shiraz Cabernet. We really do.
Yes, we are already on our second glass. 🙂
According to the folks at Wiki, Merlot is the third most grown variety of Red Wine grape globally, with an increasing trend.
OK, that's enough.
Now, let's get back to our Banrock Station Merlot.