Kambakkht Ishq – Fails to Shine at Box Office
Kambakkht Ishq Review – Must Miss, Sick Garbage;
Don't Waste Your Money
Breaking News – Akshay Kumar is the new Abhishek Bachchan. You know, the name that's synonymous with garbage.
Akshay's Kambakkht Ishq is already drawing withering scorn from movie critics.
Here are some of the critics on Kambakkht Ishq:
* Sify:
Writer-director Sabir Khan's execution is devoid of subtlety….Well, this film is good for only one – the trash bin.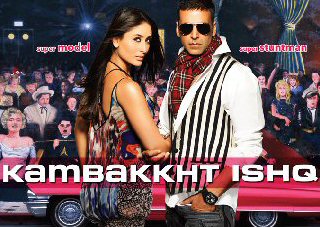 * Indiatimes:
The heroine and hero refer to each other as 'dog' and 'bitch' throughout. She adds that men have no IQ. Director Sabbir Khan either believes the same for his audience or is the species of men that the heroine is referring to. That's because he treats the film with such childish cheekiness that you are amazed by the audacity with which the film offends the idea of entertainment.
* Wogma:
Usually, even if it's a bad film, I end up saying, "at least it put some money in the flow, good for the economy." But, I cannot stop hurting at the crores and crores of Rupees drowning from the drain to the core of the earth. What is it that prompted the supposed top-of-the-line *stars* of the country to entertain this no-line (ouch…just can't make myself call it a plot) and expect the film-starved country to be entertained?
* SearchIndia.com (on June 3, 2009 before watching Kambakkht Ishq):
If Akshay Kumar's forthcoming Kambakkht Ishq is indeed a remake of the 2002 Kamal Haasan-Simran film Pammal K. Sambandam, it's a harbinger of more crap for Akshay Kumar fans and Bollywood addicts.

And a reflection of the utter poverty of ideas and the current comatose state of Bollywood.
* SearchIndia.com (July 3, 2009 after watching Kambakkht Ishq):
If you thought Akshay Kumar's Chandni Chowk to China was pathetic, Kambakkht Ishq will leave you numb with horror that a Bollywood star of his stature would involve himself with and contribute to the making of such stinking trash.

Must be obscene greed, what else.

Besides associating himself with this offal, the aging Akshay Kumar never demonstrates any other talent in this movie like great acting or thrilling stunts. Akshay's acting here is pedestrian and his stunts mediocre.

Sure, there's all the fire and noise but there are no great pyrotechnics in the stunts themselves. Nothing we haven't seen in a thousand Hollywood movies before.
* IBNLive:
How much you enjoy Kambakkht Ishq is directly proportionate to just how low your standards have fallen. This battle-of-the-sexes saga starring Akshay Kumar and Kareena Kapoor is a loud, vulgar and seriously offensive film that has reportedly been made at a price of Rs 60 crore. In that much money, you could feed an entire starving nation. And you'd be blessed for it. 
* DNA:
Kambakkht Ishq is Bollywood at its worst. Akshay Kumar, to a large extent, is to be blamed. Over the past few years, Akshay has been part of films of the "leave-your-brains-at-home" sort. Even before Kambakkht Ishq's release, Akshay gave interviews about how the film was "illogical". Nothing wrong with that — we are all willing to let go of logic if we are entertained in the bargain.

But too many times now, Akshay has made us sit through torturous films that have no semblance of a story, have a shoddy script and Akshay-antics to make up for it. 
* Reuters:
[A]fter watching "Kambakkht Ishq", I was left numb at the thought someone could make such a bad film.

Yes, there is no other word for it. This extremely expensive film, with cameos by Hollywood stars and flashy fight sequences, isn't quite the entertainer it promised to be. 
* LiveMint:
After all the talk of it being the blockbuster of the year, Kambakkht Ishq is without doubt the most asinine and offensive film of the year. 
* Rediff:
Kareena asks Akshay in a scene, 'How low can you go?'

This film is the answer.
Of course, discerning Bollywood fans are not new to crap from Akshay Kumar – the star's last wannabe film Chandni Chowk to China was an abomination and was soundly buggered by both critics and fans.
Related Stories:
Kambakkht Ishq – Fails to Shine at Box Office
Kambakkht Ishq Review – Must Miss, Sick Garbage; Don't Waste Your Money