New York is kaput.
Not the city, idiot.
We mean, the crappy John Abraham, Katrina Kaif Bollywood movie.
New York movie has run out of oxygen and is gasping for breath.
Now, don't tell us you expected something different.
In the second weekend at the U.S. box office, New York came in at No-27 with a total gross of a measly $148,470 and average gross of $3,030.
Here's how New York fared compared to a few other prominent Bollywood movies in the second weekend at the U.S. box office: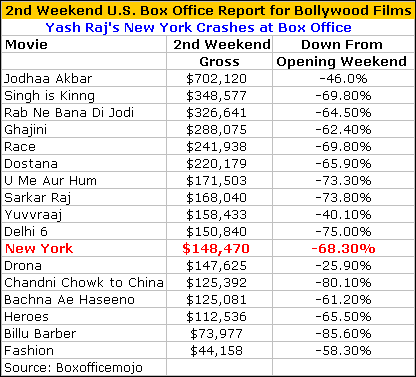 Besides beaing a mediocre movie, New York also had to contend with Akshay Kumar's Kambakkht Ishq, which debuted here on July 3.
As SearchIndia.com wrote in the review of New York:
Aside from the fact that New York the movie never provides a proper context of what justifiably led America to engage in some unsavory practices (the full extent of which we may never know) and plays havoc with the facts, the movie is not a edge of the seat thriller but au contraire a lengthy, predictable Bollywood production with mediocre photography, below par routine by Katrina Kaif, below average music and OK performances by Neil Nitin Mukesh and John Abraham, and entrenching Irrfan Khan as the new Iftekar of Bollywood movies.
We've long held the view that Yash Raj should pack up their bags and head to a small town in India's cow-belt and take up jalebi-selling.
Alas, while our advice has fallen on deaf ears the wisdom of our words is reflected in the poor box office numbers.
And somebody please quickly arrange a brain transplant for Aditya Chopra (who has dual credit as New York producer and also for the story).