Can it possibly get any worse?
No, No and No.
The Saif Ali Khan-Kareena Kapoor piece of shit Kurbaan has fared worse than one of the worst movies in the annals of Bollywood. Y'all know which one. 😉
Yes, Yes and Yes
Kurbaan has accomplished the seemingly impossible. It has fared worse than Abhishek Bachchan's Drona in the second week at the U.S. box office.
If we've said it once we've said it a gazillion times.
Kareena Kapoor is offal as far as acting goes and the kiss of death for movie-lovers.
The offputting Kareena ranks among the baddest of the bad Indian actresses.
In Kurbaan, both Kareena and her beau Saif Ali Khan have taken the paying audience for a ride.
And Bollywood fans have repaid the duo in kind with the pitiful box office numbers providing the best evidence of the comeuppance for the two stars.
What a Shame
In its second weekend at the U.S. box office, Kurbaan grossed $130,885, a 68% drop from the already low opening weekend.
Au contraire, Abhishek Bachchan's Drona did $147,625 in its second weekend here.
Here's how Kurbaan fared in its second weekend at the U.S. box office compared to a few other prominent Bollywood movies: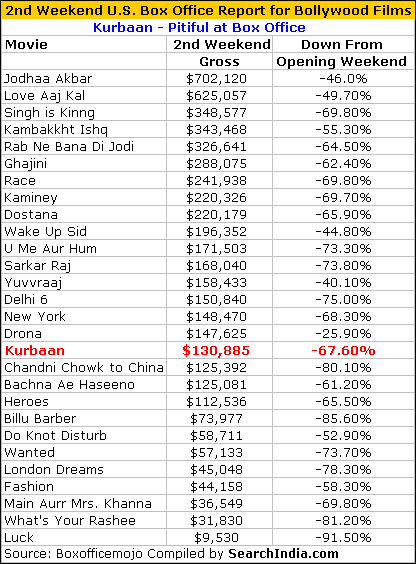 Related Stories:
Kurbaan Review – You are the Sacrificial Lamb, Sucker