De Dana Dead at Box Office, Crashes 85%
Folks, what did we tell y'all?
We said De Dana Dan is 'Beyond Pathetic Garbage.'
Yes, we did.
And now the U.S. box office numbers for Bollywood Trash King Akshay Kumar's latest piece of shit support us.
The five-day Thanksgiving weekend numbers for De Dana Dud oops Dan are out and they are pathetic.
As in P A T H E T I C.
The five-day gross for De Dana Dan is less than the three-day gross for Love Aaj Kal, Kambhakkht Ishq, Race, Rab Ne Bana Di Jodi, Jodhaa Akbar et al.
But who's surprised?
After all, Akshay Kumar has not earned the epithet Trash King of Bollywood from us for nothing. Right, na?
Plus a whole gaggle of critics has basically labelled De Dana Dan as trash.
By the way, the five-day U.S. weekend numbers for De Dana Dan is just a wee bit higher than the three-day weekend numbers for Kaminey.
Now see for yourself in the below table De Dana Dan's mediocre performance at the U.S. box office: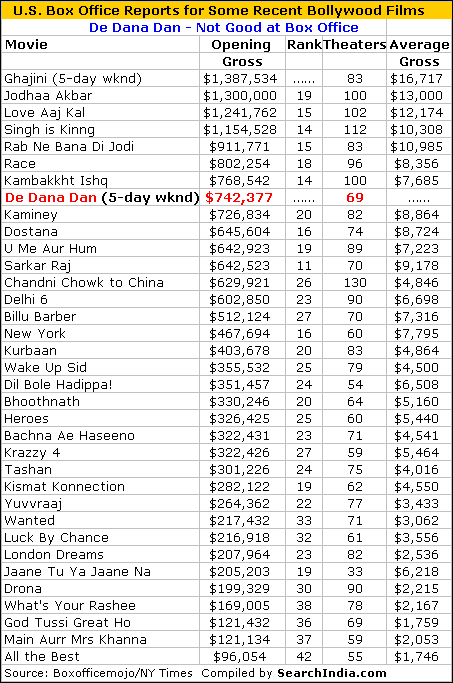 The U.K. opening weekend box office numbers for De Dana Dan aren't impressive either.
In the U.K., De Dana Dan has come in worse than the Abhishek Bachchan-John Abraham junk Dostana. Now, Akki or Sucki or Monki or wateva Crappi you are referred to by your fawning acolytes, isn't that humiliation enough for you to want to slit your wrists.
Your movies are faring worse than Abhishek Bachchan's. Can there be anything worse for you in this world?
Folks, please see the below table for how that pathetic shit De Dana Dan has fared in U.K. compared to a few other prominent Bollywood movies: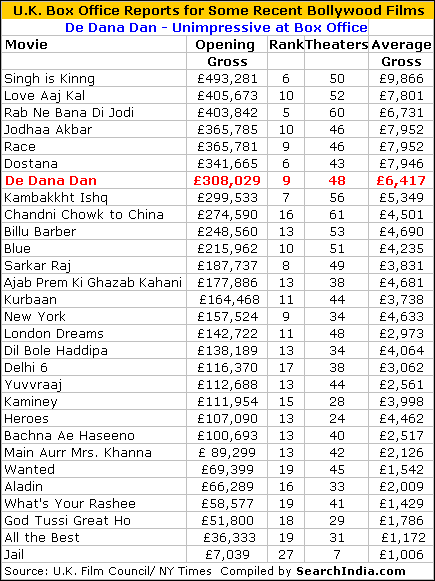 Related Stories:
De Dana Dead at Box Office, Crashes 85%