Thanks to Allah, Shiv Sena, Newark Airport officials and stupid desis, Shahrukh Khan's mediocre shit My Name is Khan has surged past Aamir Khan's trashy 3 Idiots in the U.S. box office battle, according to the latest 4-day weekend estimates put out by Box Office Mojo today (Monday is President's Day and a holiday in the U.S.).
My Name is Khan is ahead of 3 Idiots in both total gross and average gross estimates.
Considering it took only four days for the Pakistan-loving chutiya Shahrukh to accomplish – and to surpass – what the midget Aamir did in five days, Shahrukh Khan can chant Allah o Akbar tonight.
Here's how the  numbers look for My Name is Khan vis-a-vis a few other prominent Bollywood films at the U.S. box office for the opening weekend: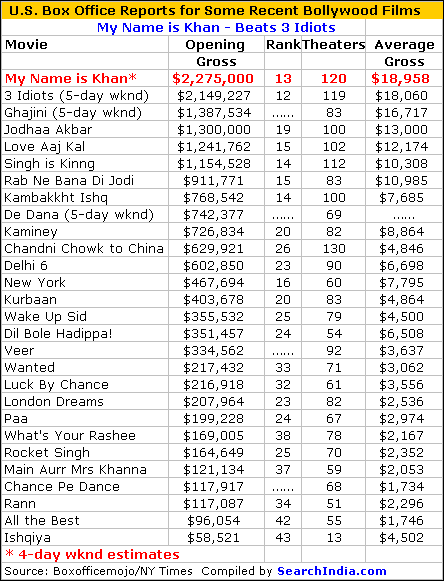 Related Stories:
My Name is Khan Review – My Name is SI and this Film is Not the Stuff of Legend
Will Allah's Followers Save My Name is Khan?
Who's the Bigger Chutia?
3 Idiots Review – Total Garbage