(For SI blog reader VJcool)
Where have all the flowers gone?
Long time passing
Where have all the flowers gone?
Long time ago
Where have all the flowers gone?
Young girls picked them every one
When will they ever learn?
– American folksinger and song-writer Pete Seeger: "Where have all the flowers gone?"
In Incredible India, you don't say it with flowers anymore.
So yesteryear. So uncool.
Marigold, Champa, Jasmine and Rose – who cares for them anymore in India?
Flowers are out. Their stench is unbearable.
And currency notes are in. Ah, what a sweet smell these crisp notes spread all around them!
Even India's esteemed netas are now eschewing malodorous flowers for fragrant currency notes.
Take for instance, Mayawati a.k.a Maya behn, our beloved Maharani Chief Minister of Uttar Pradesh and Bahujan Samaj Party leader.
On Monday to celebrate 25 years of the BSP and the 76th birthday of its late founder Kanshi Ram at the Ramabai Ambedkar maidan in Lucknow, Maya behn was honored by her supporters with a garland of flowers Rs 1,000 notes.
Hey, we can smell the fragrance of the currency even here across the ocean.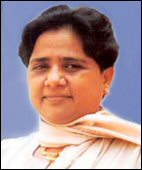 Her Royal Highness Mayawati
(Photo: UP Govt. web site)
Not for our Maya behn Rs 100 or lesser denomination notes or God forbid the coins that lesser leaders are weighed in not so infrequently in the various corners of Incredible India.
Must be Rs 1,000 notes.
No less for a worthy leader of Maya behn's statuesque stature.
Estimates of the currency value in the non-flower garland range from Rs 2 crore to Rs 5 crore.
Devi Darshan
Like a Goddess, Mayawati descended from the skies at the venue in a helicopter.
Alas, that these old eyes were not so blessed to partake of the devi darshan!
N.B.: Meanwhile, the Uttar Pradesh government has ordered an inquiry to identify the 'mischievous elements' behind the swarm of honey bees that appeared at the Rs 1,000 garland function.
Hey, what was that noise?
Ah, ignore it.
Tis' just the poor, bereaved families of the recent Hindu temple disaster in Uttar Pradesh wailing Mera Bharat Mahaan.