Yipee, multitasking (and a bunch of other features like folders) is coming to the iPhone.
A few hours ago, Apple previewed its iPhone OS 4 software with multitasking for third party apps as the highlight.
Scheduled to debut this summer, the multitasking capability for third party apps is supposed to provide developers seven new multitasking services they can add to their apps. They include background audio, VoIP and location, push and local notifications and fast app switching that preserves the state of an application when you return to it after checking out another application.
This means apps like Pandora can play music in the background, VoIP apps can receive a VoIP call even when the iPhone is asleep or the user is running other apps or get directions while listening to music.
Apple also released a beta (trial) version of the iPhone OS 4 software to developers.
Steve Jobs Forgot Us
Alas, we won't be able to check out the new multitasking features because they won't work on our two-year-old iPhone 3G.
You see, to get multitasking you must have iPhone 3GS or third generation iPod touch (i.e. late 2009 models with 32GB or 64GB) devices. Well, since we're nearing the end of our service contract with AT&T maybe we'll renew it and get the iPhone 3GS. Or wait for the next generation iPhone.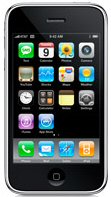 Worth It?
But the more we think of it the less certain we are if the addition of multitasking capability to the upcoming iPhone OS 4.0 is really a cool thing.
Think. Should a small form factor neat device (be it the iPhone, Blackberry or wateva) with all its memory, processor and battery limitations really have multitasking capabilities.
One of the nice things about the iPhone is that in a world where a lot of gadgets seldom function as touted the iPhone rarely lets us down. The phone, the iPod and the applications work smoothly, for the most part.
In two years of owning the device, our iPhone has seldom crashed.
Also, will the cramming of multitasking capabilities turn out to be a step backward and drain the battery faster. Apple says it's preserving battery life by itself running the core services required by the third party Apps in the form of Application Programming Interfaces (APIs).
Other New Features
Besides multitasking for third party apps, other new features in iPhone OS 4 include Folders to better organize and access apps; improved Mail with a unified inbox, fast inbox switching and threaded messages; a new iAd mobile advertising platform that app developers can use to display ads inside the app; enhanced Enterprise support with better data protection, mobile device management, wireless app distribution; and iBooks, the ebook reader that recently debuted on the iPad.
Folders are designed to help users to better organize and quickly access their apps. A new folder is created when users drag one app icon onto another. The folder is also automatically given a name based on the App Store category of that app, such as "Games," or "News" which users can rename. Users can organize and access 2,000 apps on their iPhone via the folders. Apple is also letting users create and manage iPhone folders on their Mac or PC using iTunes 9.2.
Revenues from ads in the the iAd mobile advertising platform will be shared 60-40 between the developer and Apple with the developer getting the larger share. Apple's iAd moves could heighten the growing rivalry with Google, which is also aggressively eying the mobile ad space and recently acquired AdMob to strengthen its push in this domain.
The iPhone OS 4 beta includes an updated Software Development Kit with over 1,500 new Application Programming Interfaces.
Apple said it's sold 50 million iPhones and another 35 million iPod touch devices, a big enough market for app makers to target their wares.
But we doubt many independent app developers are getting rich off their iPhone apps. A lot of apps are extensions of existing web applications by large players (like the New York Times, Wall Street Journal, RedBox or PayPal) to the iPhone.
Before we let you go, here's a chart on the growth of Apple's App Store and downloads off the store.
Impressive, right?
Now you see the magnitude of the challenge ahead for Google's Android mobile phones.