Boy, oh boy, Shirdi Sai Baba seems pissed with his ardent devotee Hrithik Roshan. Really, really pissed.
And this after Hrithik went to Shirdi recently begging for the success of his movie Kites.
Actuals – Worse than Estimates
Folks, the box office numbers of Hrithik Roshan's crap-show Kites are out and the actuals for the opening May 21-23, 2010 weekend for this junk are worse than the estimates.
Hell, the much-hyped movie failed to even hit the $1 million mark in total gross. A measly $958,673 was all that this junk could manage in total gross.
And that is a mighty big shame considering all the hype, considering the wide release of the movie (208 theaters in the U.S.) and considering all the money that's been poured into this film.
Kites' average gross of $4,609 is less than the average gross for Akshay Kumar's horrendously bad Chandni Chowk to China ($4,846).
Not just CC2C, a horde of mediocre Bollywood movies including Race, Delhi 6, Dil Bole Hadippa, Kambakkht Ishq et al have higher average gross compared to Kites.
Can it get any worse? Hell, No.
Here, see for yourself how badly this junk has fared at the U.S. box office compared to a few prominent Bollywood films: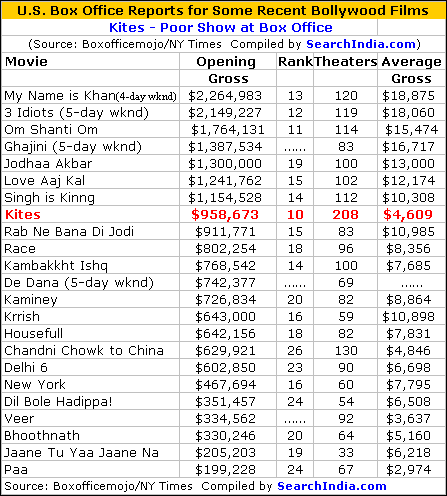 Hey Hrithik, next time you might want to pay a visit to the temple of the Script Baba. 😉
Guys, if you haven't seen Kites count yourself blessed by Shirdi Sai Baba.
Related Content:
Kites Review – OMG, Utter Garbage
Match Point Review – OMG, Can Kites Match This?
Kites Opening Show USA – Poor Response