Ha ha ha.
Ha ha ha.
Folks, we haven't stopped laughing.
Blow the Conches, Fire the Guns, Hire the Hookers
Oh yeah, hire the hookers.
Big fleshy thighs. A triangular belly-button. And a welcoming 36C bosom!
Promise them a fat tip. Tell them it's a festival today.
Sori-Padam Surya's Asingam oops Singam has done worse than Sura, one of the worst movies in recent memory, at the UK box office.
Well, who's surprised. The schmucks, who else.
Serves this Sori-Padam Surya right.
The moron has been consistently giving us shitty movies and the box-office returns of this bozo's films have been proportionately bad.
BTW, this buffoon reportedly went on TV to thank fans for making the film a super-shit oops a super-hit.
Ha ha ha.
Wonder what the bozo drinks. Hey Sori-Padam, we'd like some of the same scotch.
Hell, Singam has done much worse than Surya's previous crap-show Adhavan.
Folks, if we've said it once we've said a million times – Sori-Padam Surya is going the way of his Jillu Jillu Gullu Gullu old man.
Here's how Singam has fared at the UK box office compared to a few prominent Tamil movies: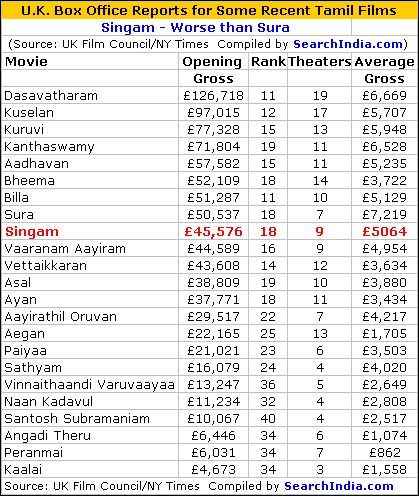 As SearchIndia.com blog wrote in the review  of Singam:
If Singam proves anything at all, it's that its hero Sori-Padam Surya and director Hari retain their unerring eye for grotesque perversity….With a fig-leaf of a boring story, a miserable cartoon of a villain, loud noise masquerading as music, a hero who thinks yelling is acting and a heroine who alternates between pouting and flashing her thighs and tits, Singam is but the latest instance of a bunch of gibbering monkeys perpetrating big-time fraud in an avaricious effort to rob you of your time and money.
Now, if you'll excuse us we'd like to get back to our Gilbey's Gin (sure tastes yuck without our usual Seltzer water or Soda).
We're already high and can barely walk type straight.
But you can be sure we'll have another extra-large tonight to celebrate the failure of this shitty film.
Related Stories:
Singam Review – Sin to Watch Such Trash
Watching Singam – Bad Opening