C'est magnifique!
If you live in the U.S. and in the vicinity of where the English movie Winter's Bone is playing and still don't care to see it, then may you be stricken with the plague and suffer unendurable pain.
Seriously, Winter's Bone is that good a movie.
Hungering for Relief
Desperate to rid our soul of the putrid remnants of the Bollywood bozo Abhishek Bachchan's nightmare Raavan, we acutely hungered craved for some relief.
And we found our Nirvana Saturday at Ritz 5 Philadelphia in Winter's Bone.
Folks, Winter's Bone is not just a good picture.
Au contraire, it's a magnificent, jaw-dropping, awesome picture.
The kinda movie that wholesomely restores your faith in movies as an art form and as a medium of entertainment.
And you don't have to salvage a shopworn epic like Ramayan for a story.
Are you listening, Mani Ratnam?
Mani Ratnam,  are You f*cking listening?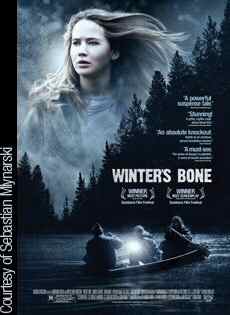 There were close to 50 people for the 2:50PM show of Winter's Bone and as far as we can remember that was a record for any indie movie we've watched at the Ritz 5.
Adapted from the 2006 novel of the same name by Daniel Woodrell and directed adeptly by Debra Granick, Winter's Bone is straight off a piece of life in modern-day America.
That is, life just a few miles outside of the big cities.
For all you dolts who still believe in the fiction that America is the richest country in the world and where the streets are paved with gold, let's tell you that there are millions, both Whites and Blacks, leading miserable, hardscrabble lives, sometimes a mere few miles beyond the city limits.
And that is the picture Winter's Bone presents us, and so well indeed – a realistic slice of rural life in America, of families living in such poverty where they still hunt squirrels for food, where there's no money to even take care of the family horse and where joining the Army is often the sole hope.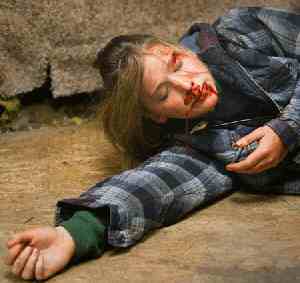 Ree Dolly Suffers a Brutal Beating
The setting is the Ozark mountains in Missouri (don't ask, we haven't been there) where, in parts, cooking meth (the process of making an illegal narcotic drug) is a way of life, a way out of poverty or a way of crime.
Which way, you ask? Well, that depends on your perspective and the prism through which you view the world.
Wall of Resistance
When young Ree Dolly's (Jennifer Lawrence) father Jessup Dolly fails to appear at a court hearing after posting their home as the bail-bond following an arrest, the bond agent comes calling with the unwelcome news that the family will lose the house unless Jessup can be found.
And found soon, else the family will have nowhere to live.
No stranger to hard times, after all 17-year-old Ree has been running the household and taking care of her two younger siblings and an ailing mother, still the bond agent's visit and the scary prospect of losing the home is so unsettling that Ree promises to find her father.
And that folks is what this splendid movie is all about – Ree Dolly's desperate, feverish hunt for her father in the face of daunting odds.
At every turn of Ree's urgent quest to find her father, she encounters hostility, meets a thick wall of resistance, even from her own blood, that eventually turns into a bloody, violent assault against her.
Jennifer Lawrence is a fine actress, and mark our words carefully now, one about whom y'all will be hearing and talking a lot in the coming years and decades.
When helping her younger siblings, when confronting the hostile populace around her, when teaching her siblings to shoot, when pleading with her mother to come out of her dazed stupor for once, when trying to join the army and finally in the boat on the dark night, Jennifer's intense performance in Winter's Bone is a revelation.
A gorgeous actress. In looks and on the screen. That's mio amore Jennifer Lawrence! 😉
If you think the 19-year-old actress is the only sterling performer in Winter's Bone, boy, you'd be so wrong.
Jennifer is supported by a solid cast including John Hawkes as her uncle Tear Drop, Kevin Breznahan, Dale Dickey and others.
You see Ree's confrontation with the menacing Tear Drop and you realize what real acting is all about. Not the shit shoveled at you by those pathetic monkeys in Bollywood.
Must Watch
The photography is extremely pleasing and has a grayish tinge throughout in keeping with the gray, somber theme of the film.
Director Debra Granick builds and maintains the suspense in the young girl's hunt for her father until the horrifying moments when we finally find Jessup Dolly.
Granik also co-wrote the screenplay along with Anne Rosellini.
Besides the Grand Jury Prize at the Sundance Film Festival 2010, Winter's Bone has already won a host other awards. All of it, deservedly so.
To our American readers, we can't endorse Winter's Bone strongly enough.
The movie is playing across the country at these theaters and you'd be fools not to see it.
As for our Indian readers, well, the thieving bastards know …. 😉