Google may be the cock of the search engine walk but when it comes to social networking sites, as the cognoscenti know Facebook is King.
Even in that overpopulated shithole, Facebook now rules.
Over the last 12 months, Facebook has made chutney of Google in India with a scorching 179% growth in unique visitors compared to a puny 16% for Google's Orkut.
Here, look at the below table. The numbers tell the story better than any words could: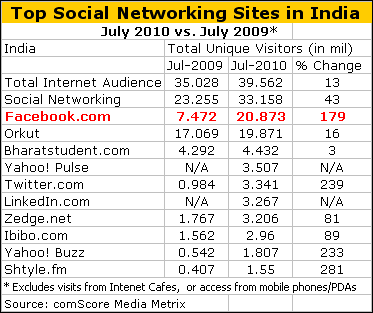 comScore estimates that the total Indian social networking audience grew 43% to 33.16 million users in July 2010.
India is said to be the seventh largest market for social networking after the U.S., Yellow Monkey nation (a.k.a. China), Germany, Russian Federation, Brazil and UK.
Says comScore's executive VP for the Asia-Pacific region Will Hodgman:
The social networking phenomenon continues to gain steam worldwide, and India represents one of the fastest growing markets at the moment.
BigAdda or BigZero
And where the f*ck is Anil Ambani's social networking site BigAdda?
What a shame that BigAdda, which went live in May 2007, is not even in the Top 10.
Other than Anil Ambani's crony Amitabh Bachchan, does anyone else even visit BigAdda.
By the way, SI has a Facebook account too.
Related Stories:
Anil Ambani's BigAdda in Bad Shape
BigAdda Goes Live