Karthi, the younger son of the Jillu Jillu, Gullu Gullu tail-less monkey Sivakumar, may be a decent actor but box office returns from his movies are not so decent.
We found Karthi's latest movie Naan Mahaan Alla, which opened last Thursday in the U.S., to be a watchable flick but Tamil film audiences have not exactly stormed the box office. The U.K. box office, that is.
Naan Mahaan Alla brought in a meager £17,508 in the opening weekend at the U.K. box office and notched up an average gross of £2,918 after debuting in six theaters.
As you can see in the below table, Karthi's previous film Paiyaa released in the same number of theaters but did better.
Here's how Naan Mahaan Alla fared compared to a few other prominent Tamil films at the U.K. box office: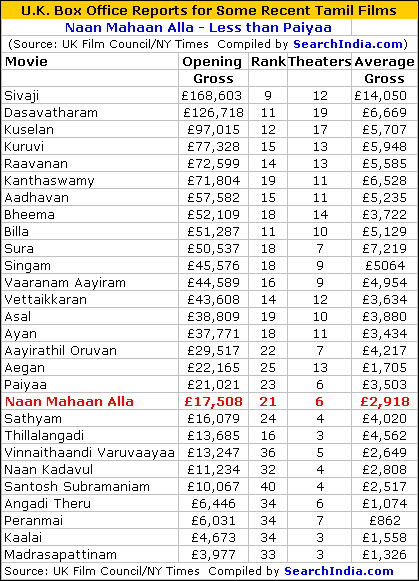 Related Stories:
Naan Mahaan Alla Review: Somebody get us a Gun, We Want to Shoot this Bastard Suseenthiran