Now, don't y'all ask us how we happened to come by Bernardo Bertolucci's The Dreamers.
Maybe, one of you priapic schmucks recommended it before we clamped your collective lips shut. Maybe, we're autodidacts and discovered the movie ourselves.
Hey, who gives a f*ck how we how we discovered Dreamers (available at Netflix on DVD).
But let the word go forth from this time and place to the peerless SI's friends and foes alike  (thanks, JFK) that Dreamers is one charming, delightful movie sure to find favor with all ye drooling chimps.
Boy, we ain't seen anything like it. Not in a thousand porn movies. No sir, not such a fine pair of tits as hangs on graces the torso of Isabelle i.e. Eva Green.
Surely, God broke his tit-mold after creating this Venus.
Ah, if only a pair of fine tits filled the screen we wouldn't be so excited. Hell, there was Eva's bushy bush, a derriere meant to stir our loins and a voluptuous, graceful body possessed by none in that Bollywood cesspool.
Oh, what would we not give for our moist lips to touch hers and our lips to brush her dense bush a la Michael in the movie.
Only a director with a lush, lavish, lascivious imagination like Bernardo Bertlucci could create a lusty, delicious movie like Dreamers. 😉
As you watch the movie, you realize the extraordinary class and talent of director Bernardo Bertolucci, evident in every frame.
Folks, Dreamers is a movie that oozes sexuality, of course.
But more than sexuality, the film is dripping in class, an element totally absent in the crass Indian movies or their aficionados.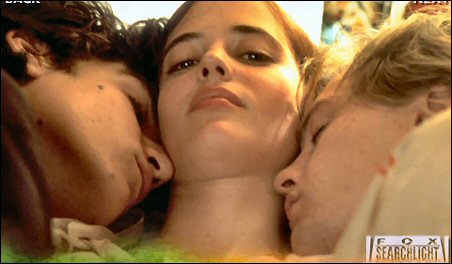 Louis Garrel (L), Eva Green & Michael Pitt in The Dreamers
(Image: Courtesy Fox Searchlight)
Paris in the Late 1960s
Set amidst the ferment of the late 1960s in Paris when students, labor and an assortment of other groups filled the streets battling the police and the establishment, Dreamers defies description or meaning as to what it's all about.
When an anti-violence young American student Michael in Paris (dodging the Vietnam war draft) befriends two twins and fellow movie-buffs Theo and Isabelle, little do we realize the sexplosion ahead of us for the next 100-minutes or so.
To make things convenient, the twins' parents go off leaving them and their new-found friend alone in the large apartment.
Soon, the troika is seen in various states of undress and occasionally baring all (yes, we meant all) as they frolic on the bed, on the floor and in the bath tub.
Be warned if you plan on watching Dreamers with your family that the movie has full frontal and back nudity of both men and women as well as love-making scenes. All handled very artfully.
Oh, no. This is not a porn movie lest you Indian perverts be inclined to think so.
The three youngsters are smart, seemingly well-read, opinionated and, like a lot of students, spitting fire and brimstone against the injustices of the day.
Since our three characters are movie-buffs, Dreamers is appositely interspersed with excerpts from some of the old 1930s classics featuring actresses from that era like Marlene Dietrich and Greta Garbo.
The acting by the three youngsters Eva Green, Louis Garrel and Michael Pitt is top-notch.
Exceptional, we must acknowledge.
The photography and art direction superb.
Visually compelling, Dreamers ought to be declared by fiat a must-watch for the Indian baboons who masquerade as directors and Indian movie-fans who delue themselves that the Bollywood and Kollywood bilge they watch are movies.
Bernardo Bertolucci's helmsmanship of the movie is, oh, so, peerless.
By the way, the screenplay is by Gilbert Adair based on his novel The Holy Innocents.
Overall, the movie is a charmer although the rather abrupt ending after the stone throwing and hurling of Molotov Cocktails left us, as it must have many others, at sea.
SearchIndia.com strongly recommends Dreamers to all movie-lovers.