What do you do after watching a depressingly excellent Romanian film like 4 Months, 3 Weeks and 2 Days?

Well, if you were SI, you'd immediately open the fridge and take out an ice-cold bottle of India Special Reserve Beer, place it in the freezer for a few minutes to cool it further and scrounge for some Indian snack.
You see, when we eat we like something to drink and when we drink we wanna eat something. No wonder, we look like the laughing Buddha or an overstuffed Ganesh minus the rat. 🙁
Pouring the by-now coold India Special into a beer glass and with some 'mixture' from the Flushing Ganesh Temple, NYC as a side, we sat down in front of our PC to type this blog post for all ye nothing-better-to-do schmucks.
Unlike our previous Arrogant Bastard Beer, India Special is your typical beer-colored beer, i.e. pale golden yellow.
Made in India by a company called Blossom Industries Limited in Daman, the beer costs $3.99 at the local rude Gujju 'Chutiya' Patel's liquor store.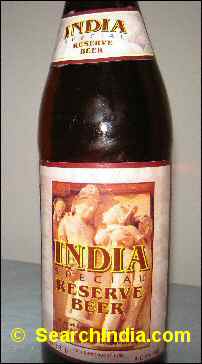 The beer has a good Barley smell, not the slightly fruity smell we got with Arrogant Bastard.
Taste-wise, India Special has a slightly bitter taste the moment it hits your tongue.
The beer was not bad from a taste perspective, and mercifully didn't have the cheap Budweiser taste. But at the same time wasn't anything extraordinary either.
With just 5% alcohol, a 22-oz (650-ml) bottle didn't give us even a mild buzz.
Truth be said, we suspect even the 5% alcohol mentioned on the bottle. Must be lesser.
But then we were drinking this on an over-loaded desi stomach stuffed to the gills with Spinach Dal, Rice, Baingan Curry and Lime Aachar.
Bottom line, we wouldn't recommend India Special.
Pay one buck more, and get a better beer like the Arrogant Bastard.