Since some folks on this fine blog have been dropping the Blue Moon name, our curiosity was piqued enough to take a dekko at the beer and check out what the fuss was all about.
To our surprise, we found more than one variety of Blue Moon in the cooler of our local liquor store.

There's the Blue Moon Belgian White, Pale Moon and Blue Moon Spring Blonde Wheat Ale (from the Seasonal Collection).
We found a variety pack ($14.99) containing four bottles of each and grabbed it.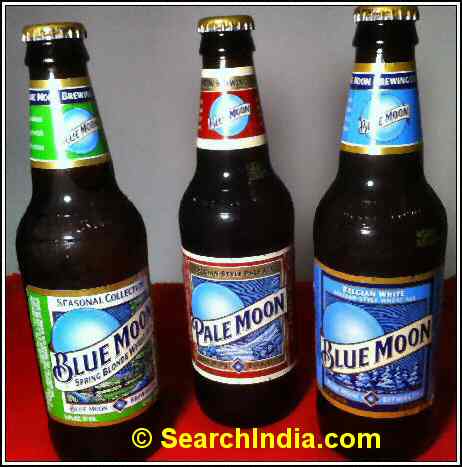 Blue Moon Belgian White
Touted as a Belgian-style wheat ale, this one is not that foamy a beer as you pour it into the glass.
Like Namaste, the Blue Moon Belgian White too is brewed with coriander and orange peel. But the coriander and orange peel flavor seemed milder with the Blue Moon.
Beer haters may like Blue Moon Belgian White for its non-bitter taste. As you take the glass to your mouth and inhale it for just a second, a barely discernible smell of coriander-orange peel wafts up, with the orange peel dominating. Take a swill and gently roll it on your tongue, there is nary a bitter taste.
The critics might even be tempted to slam it as tasteless but that would be a unfair shot. And we certainly wouldn't go that far. There is definitely some taste of orange peel and coriander.
Notwithstanding the "white" in the title, this is not a pale beer. Au contraire, the Blue Moon Belgian White has a regular beer color and the 12-oz bottle (355-ml) packs a 5.4% alcohol content by volume.
Pale Moon
A copper-colored beer, Pale Moon has more of a traditional beer taste compared to Blue Moon Belgian White.
As you drink it, the bitter flavor of Pale Moon stands in stark contrast to the bitter-less Blue Moon Belgian White.
Pale Moon also has a beer-ish smell too that the purists will appreciate.
If you go by the description on the bottle, Pale Moon is brewed with European malts, Cascade hops, just a little bit of wheat and a hint of orange peel and hibiscus.
The orange peel flavor here is practically indiscernible although the hibiscus flavor seems faintly apparent. For those who care about the details, the 12-oz bottle has a 5.4% alcohol by volume.
As you might have guessed by now, we were not too thrilled with either the Blue Moon Belgian White or Pale Moon.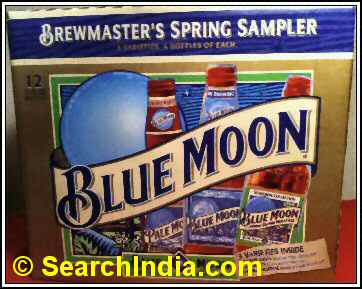 Blue Moon Spring Blonde Wheat Ale
(from Seasonal Collection)
Our last bottle, the Blue Moon Spring Blonde Wheat Ale obviously had a less bitter taste compared to Pale Moon.
Notwithstanding the company's claims of the ale being brewed with orange and lemon peel for a refreshing and smooth finish, we didn't find anything refreshing about the beer. Just glib words. We did get that slight orange peel flavor but nothing of the promised lemon refreshing property.
Nothing remarkable about this Spring Blonde Ale. Nothing at all.
Is it bad? No, just that the hiatus between the hyped up words and taste is yawning.
Bottom line, we didn't find any of the Blue Moons particularly exciting! Now, what are we gonna do with the remaining nine bottles! 🙁
After we completed this review, we found that Blue Moon and its siblings are brewed by Molson Coors, one of those giant corporations. Not pleased over that fact. 🙁