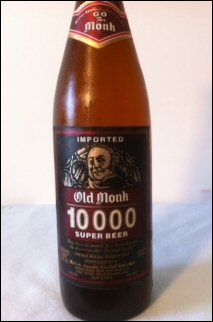 Like a lot of things Indian, Old Monk 10000 has a funny and bad smell.
Not a very bad smell. Just that it's a little chemically-bad-smell.

We purchased this Made in India beer (Mohan Meakin Brewery, Ghaziabad) at a closeout sale from a Chinese liquor store in Dover (DE) for $3.99.
The golden-amber colored beer has an alcohol by volume of 8%. In our view, the higher the better. 😉
This is not a bitter beer.
More like a fruity beer. Makes us wonder if any hops even went into the making of this beer.
Has a watery, chemically, cheap taste.
Not a very pleasant feeling in the mouth.
If there's a silver lining in this beer, it's the nice buzz we had after a 1 pint-6 fl oz (650ml) bottle.
Would we drink or recommend Old Monk 10000 again?
Are you kidding.
Most Definitely Not. Get us our Namaste!
Related Stories
For More SI Beer Reviews, Click on SearchIndia.com Liquor Reviews