A beer bottle with a cork and a cage?
Well, that's a first for us.
Affligem Noël Christmas Ale ($8.99 for a 750ml bottle) is a Belgian beer that comes from one of Heineken International's vast arsenal of breweries.

We stumbled upon the Affligem Noël at the rude Gujju chutiya's liquor store as we were looking for a bottle of Namaste.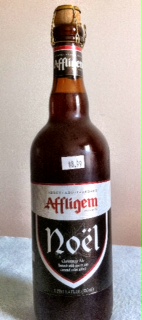 A deep amber colored beer with a high 9% alcohol/volume and off-white, light-brown foam, we fell in love with Affligem Noël after the first sip.
Nice aroma of malt, plums, cherries and a hint of Dhania (coriander seeds).
You wanna know about the taste?
Just slightly bitter. Bordering on sweetness.
More sweet than bitter, if you ask us.
A little toffee-ish or is it caramel, hint of cherry, brown grapes and plum fruits, definitely getting more than a whiff of spices and a big hint of a classy beer.
Is it the touch of spices that adds to the allure of Affligem Noël? Perhaps.
This is a beer with a fine dark fruit flavor and one we greatly enjoyed.
SearchIndia.com has no hesitation in recommending Affligem Noël Christmas Ale.