By Naveen
We were in Milwaukee on Friday evening to pick up a cousin. When we saw him arrive with a "where is food" look on his face, we decided to dine at Maharaja Restaurant (4 stars in Yelp) on 1550 N.Farwell Ave.
Located in downtown Milwaukee, Maharaja has its own FREE parking right across the street.
Things went from good to bad to ridiculous to awesome to disaster from the time we parked to when we returned.
Ambiance
As we entered the restaurant, we were greeted by a smiling, well-dressed Sardarji, who I believe was the Owner as he did nothing else. Our table was neat; the chairs were comfortable and stable unlike the shithole places on Devon Street (Chicago).
Our table was located frustratingly close to the kitchen entrance. The cheapskate owner perhaps wanted to accommodate four more guests. This revealed possibly something about their hygiene, which I will come to later. The cheapskate also kept the lighting so dim that we had a hard time reading the menu or looking at each other.
Menu & Food
The Sardarji had the audacity to label the food "North and South Indian" cuisine considering the imminent 'southern' catastrophe he was soon to unleash on our table.
One page was dedicated to South Indian items.
The morons goofed up on spellings. They served "Tomatoe" Uthapam and South Indian "Combe".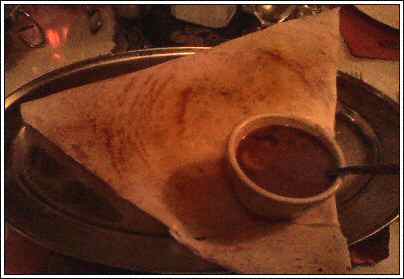 Masala Dosai – Offensively, Disgustingly Bad
We were surprised to see Kancheepuram Idly, a rarity, but hardly to our surprise it was not available. Our Sardarji waiter did not know the menu well. He insisted that Tomato Soup was not on the menu until we pointed it out.
Our first set of items arrived…
Coconut Soup… never heard of it, didn't expect much, this was to quench our curiosity. After the first sip, I was looking for a place to spit. It was a diluted version of Paal Payasam (Milk Kheer) with half cooked shredded coconut from a can. Who in the right mind makes soup so sweet? Again, who in the right mind orders a Coconut Soup? 😉
The Tomato Soup was ok. It's hard to mess that one.
Miserable South Indian Fare
The South Indian "Combe" appetizers arrived – tiny and tasteless Medu Vadai, Idly, Paruppu Vadai and Cutlet.
Idly dough was not fermented, Vadai was stale and the side Sambar was lousy and disgusting.
This "Combe" is an insult to humanity and we believe it denigrates South Indian food!
The Masala Dosai raised my expectations. It was neatly folded and served with several chutneys on the side.
One bite into the Masala Dosai left me in tears.
You see, the Dosai was cold, the dough was not fermented, and the Masala was hot. The uneven temperature raped us of the Dosai eating experience.
The Coconut "horror" chutney was watery, the tomato "stinking" chutney was stale, and there was tomato ketchup! Only the "Pickled Onions" was somewhat edible although it is not a recognized side for Dosai.
Decent North Indian Food
Disappointed, we moved on to the North Indian fare and I am glad we did.
The Gobi Paratha was a delight; it had the right mix of Gobi and the dough which started salvaging our nearly dead taste buds.
The Malai Kofta left us asking for more. I am not a big fan of this item but this was very good. The Kofta was evenly mixed and well cooked.
Our taste buds were completely revived with the Chef's Special Naan with Onion and Potato fillings and the awesome Baingan Bhartha, which was cooked to perfection. The perfect blend of spices and tangy flavor was yummy.
Biriyani – Obscenely Hot
However, our revived taste buds were brutally slaughtered by the "Hot" Vegetable Biriyani. Like true Indians, we ordered it hot while everything else was Medium. One spoon of this Briyani had us gasping for water to put out the fire in our mouth. We applied Raita as a balm on the tongue. The bastards added a jar full of red chili powder.
Tis' depressing that when we ask for 'Hot' Indian food, these restaurants mindlessly heave a ton of red chili powder into the medley with nary a thought to the proportions of other ingredients, inevitably turning the dish into an inedible disaster.
Like SI, we too hate wasting food but we had no intention to burn our entire digestive system and the other related systems.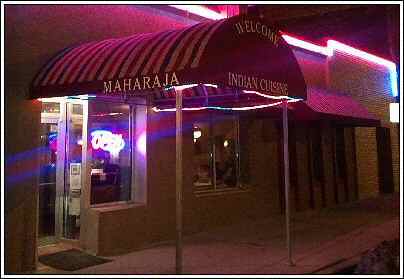 Maharaja Milwaukee – Awful South Indian Food
Service Snafus
If the idiots think that keeping clean plates, forks, knives, glasses and napkins alone is hygiene then they need a slap in the face. Coming back to our vantage point – proximity to kitchen entrance, a waiter took our half-used Chutney tray away without asking. It had the spoon we used to transfer chutney to our plates.
Although we could not see the kitchen, we were not pleased to see the waiter reemerge from the kitchen within seconds bearing a Chutney tray with a spoon and serve it to another guest! Caesar's wife should be above suspicion, comprende?
Water was refilled, plates were cleared, food was served quickly, and our order was taken promptly. However, when we told the waiter about the inedible spice level of Biriyani, the rascal asked us to stick to Medium level in future. 🙁
The waiter also asked us to lift up the empty plates and hand it to him. We don't mind helping but it is not something we, patrons particularly like being asked to do.
Verdict
Avoid!
This impostor serves fake South Indian food to gullible American population in the mid-west who probably don't know much about Indian food.
If you really have to eat at this restaurant then stick to North Indian food at mild or medium spice level only.