After cheap gin, cheap brandy and expensive beer, our favorite alcoholic drink is Jägermeister*.

Jägermeister*, a German liqueur, comes in a distinctive green bottle.
We've been enjoying Jägermeister for close to a year now and still haven't gotten bored.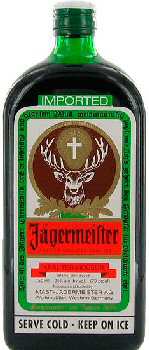 With a taste verging more than a little bit on cough syrup, the dark brown-colored Jägermeister doesn't have any of the unpleasantness or sting of other strong alcoholic drinks.
Au contraire, Jägermeister actually has a pleasant flavor, one that even people put off by the bitter taste and and strong odor of liquor will thoroughly relish.
If you believe the folks at Wiki, Jägermeister is made from 56 herbs, fruits, roots, and spices including citrus peel, liquorice, anise, poppy seeds, saffron, ginger, juniper berries, and ginseng. Cool!
Some folks make cocktails with Jägermeister mixing it with Red Bull (for Jägerbomb) or with pineapple juice and Malibu Rum (Surfer on Acid). There are other Jägermeister -based cocktails as well.
But we've always enjoyed our Jägermeister neat, without any 'adulteration.'
As a matter of fact, we've been slowly sipping Jägermeister while alternately writing this post and reading the piece on Murdoch's best pal Robert Thomson in the latest issue of New Yorker (April 8, 2011).
Jägermeister is a little expensive compared to your average cheap Gilbey's gin or ginger brandy. A small bottle (200-ml) costs about $6.99.  But completely worth it.
Our 200-ml bottle had 35% alcohol by volume (70 proof).
SearchIndia.com recommends Jägermeister.
(* Always drink responsibly.)