By God, Bridesmaids is a terrific comedy.
Brilliant!
An absolutely riveting, gorgeous movie.
Folks, we haven't had this much fun at the movies in a long time.
There is nothing, virtually nothing we disliked about this superb film. 🙂
The acting sparkles, the dialogs crackle and the Bridesmaids story resonates very, very well with the audience.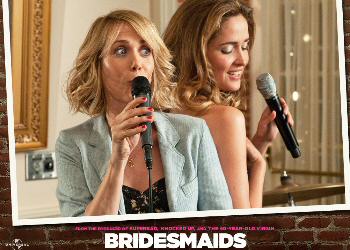 At a theater in the mid-Atlantic region on the East Coast, the audience including yours truly had a whale of a time.
In a sense, Bridesmaids is like the 2009 movie I Love You Man with both addressing themes of imminent marriage and friendship.
But Bridesmaids is better, so much better. In the acting, in the writing and in the quantity and quality of humor.
The writing, in fact, is orders of magnitude better.
Annie Mumolo and Kristen Wiig (who also plays Annie, the principal character of the movie) have done a stellar job with the script.
There's terrific humor at every step.
We laughed and laughed so much till tears rushed down our cheeks.
The Bridesmaids Story
Annie's best friend Lillian (Maya Rudolph) is getting married. And of course, Annie is going to be the maid of honor.
The problem is Annie's life couldn't get worse at this point.
Her business Cake Baby has gone belly-up in the recession, she has no steady boyfriend but only a fuck-buddy, no money to pay her rent to her co-renters and, worse of all, a strong competitor to her friend Lillian's affections in Ms Perfection Helen (Rose Byrne).
Annie's life continues its free fall as the bridesmaids work to devise a picture-perfect bachelorette party, shower and wedding for Lillian.
Annie and Helen are a wonderful study in contrasts. One perfectly poised, the other in a state of tense, near collapse.
Kristen Wiig is superb in her portrayal of the struggling, collapsing and, eventually, out of control Annie.
Hey, where was Wiig hiding all these years?
To their credit, all of Wiig's co-stars complement her in an outstanding job.
Of course, Bridesmaids is not the kind of movie that our Nenu Na Rakshashi or 100% Love craving Indians relish.
But if you love quality movies as much as we do, you can't get a better movie this weekend than Bridesmaids.
SearchIndia.com strongly recommends Bridesmaids to all ye schmucks. You have no reason not to see it because no Bollywood or Kollywood film is releasing in the U.S. this weekend.