If I don't kill a man every now and then, they forget who I am.

– the dreaded pirate Blackbeard in Pirates of the Caribbean: On Stranger Tides
We had no complaints with the many antics of Captain Jack Sparrow, the cruelty of Blackbeard or even the weird sight of one-legged Barbossa and Jack using Barbossa's artificial leg as a drinking cup.
Our gripe is with Pirates of the Caribbean: On Stranger Tides, the movie per se.
At 2 hours and 12 minutes, Pirates of the Caribbean: On Stranger Tides (directed by Rob Marshall) is a tediously long movie that has none of the magic, thrills or gee whiz special effects one is attuned to expect from a popular franchise like Disney's Pirates.
Let's blame the screenplay writers Terry Rossio and Ted Elliott for starters, shall we.
For theirs is a clumsy, unattractive script that borrows from history and melds it with fiction into a hodgepodge that provides little joy to viewers.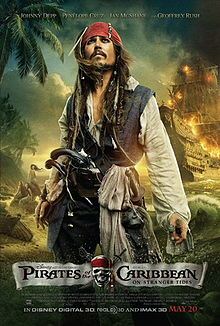 Pirates of the Caribbean: On Stranger Tides – A Lengthy Chase
This time, the much sought-after object of the pirate(s) is the fountain of youth.
But before we can get to that wonderful Eden, we have to endure the long trial of an inept screenplay that involves three groups meandering around both on high seas and on terra firma in pursuit of the holy grail of eternal youth.
Besides Jack (Johnny Depp), Blackbeard (Ian McShane) and Angelica (Penelope Cruz) aboard the Queen Anne's Revenge, there's the determined Spaniard and his crew in a fleet and finally the peerless Barbossa (Geoffrey Rush), a pirate-turned privateer in the King's employ sailing on the HMS Providence, all in a furious chase after the Fountain of Youth, all for different purposes.
Even the strange sight of mermaids, the beauties of the sea, portrayed here as hideous shark-like creatures of the deep waters cruelly luring sailors to their death failed to lift our drooping spirits.
Johnny Depp, Geofrey Rush and Ian McShane offer no cause for complaint.
With his effeminate gait wrapped in a pirate's costume,and an astonishing array of expressions, Johnny Depp is perhaps the only Hollywood actor of note who can carry off this role with aplomb. A characteristic elan he demonstrates yet again in the fourth installment of the Pirates series.
Alas, if only we could say the same of the Spanish beauty Penelope Cruz. The woman looks lost in a poorly sketched role. Not unlike Bollywood star Priyanka Chopra in all her movies.
Compounding our disappointment with Pirates of the Caribbean: On Stranger Tides, Hans Zimmer's soundtrack left us completely unmoved.
All in all, $12 down the drain.
SearchIndia.com recommends that you skip Pirates of the Caribbean: On Stranger Tides but if you do go, make sure you wait till after all the credits end for a surprise.
Related Stories:
Rotten reviews for Pirates of the Caribbean: On Stranger Rides