The new Pirates film Pirates of the Caribbean – On Stranger Tides, featuring Johnny Depp and Penelope Cruz, is receiving the thumbs down from a lot of movie critics.
On the movie reviews aggregator Rotten Tomatoes, the movie received a rating of only 40%.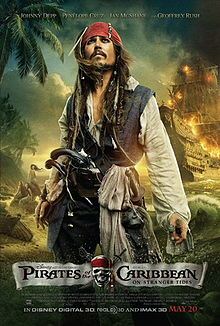 (Image courtesy: Wiki)
Many of the critics had harsh things to say about the movie.
Here is a sample of some critical comments on Pirates of the Caribbean – On Stranger Tides :
Daniel Hubschman
Hollywood.com
The film is as mechanical as the ride from which it is based.
Christy Lemire
Associated Press
[It] is the shortest in the series. But it still feels overlong and overstuffed: needlessly convoluted yet, at the same time, phoned-in.
Matthew ToomeyABC Radio Brisbane
The characters extricate themselves far too easily from difficult situations and there's no sense of excitement.
Matt Bochenski
Little White Lies
If there's a retirement home for pirates, Jack Sparrow might want to go on a quest to find it.
Andrew Schenker
Slant Magazine
There's nothing strange or in any way extraordinary about this dim-witted bore.
Shaun Munro
Obsessed With Film
While not as execrably dull or insufferably long as the third entry, On Stranger Tides lacks even a basic sense of invention and is keen simply to milk the cash cow for another round…
Tom Huddleston
Time Out
'On Stranger Tides' is simply lifeless, a reductive, insulting moneymaking exercise with as much charm and depth as a slot machine.
Robbie Collin
News of the World
Yo ho ho and a bottle of sleeping tablets.
Drew McWeeny
HitFix
This is a naked cash grab, as ugly and hollow and callous as big-budget filmmaking gets.
Of course, good reviews or bad reviews Pirates of the Caribbean – On Stranger Tides will likely be a favorite among moviegoers this weekend.
Related Stories:
Pirates of the Caribbean – On Stranger Tides Review – Left us Cold