Movie: Sweeney Todd: The Demon Barber of Fleet Street
Starring: Johnny Depp, Helena Bonham Carter, Alan Rickman, Sacha Baron Cohen (of Borat fame)
Director: Tim Burton
Music: Stephen Sondheim
Release Date: Dec. 21, 2007 in the U.S.
**********
By God, Sweeney Todd: The Demon Barber of Fleet Street is a bloody gorgeous movie.
Very bloody and supremely gorgeous, at the same time.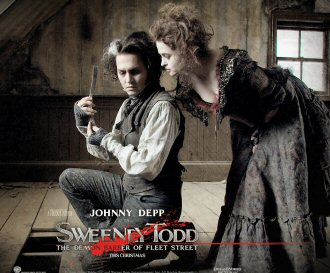 Outstandingly executed by director Tim Burton and a must watch film in any season, Sweeney Todd is the bloodcurdling tale of vengeance of a barber unjustly sent to prison on false charges because a scoundrel judge Turpin (Alan Rickman) lusted after, and coveted, his beautiful wife.
Set in gritty 19th century London and filmed mostly in dim lighting to splendid visual effect, this hauntingly horrifying story exercises a powerful grip on our attention that never let go.
If you are squeamish about blood, stay away from Sweeney Todd because there is plenty of blood whooshing out each time Johnny Depp picks up his glistening barber's razor to shave some hapless victim.
The movie opens with the barber Benjamin Barker returning to London on a boat as the embittered and enraged Sweeney Todd after 15 years in prison in Australia.
He returns to his old apartment above a pie-shop run by Mrs.Lovett (played with great elan by the British actress Helena Bonham Carter).
Not the antiseptically clean London of today, Sweeney Todd's London is a grimy place that has rats scurrying around and a slightly ominous feel.
Mrs.Lovett soon recognizes Sweeney Todd as Benjamin Barker and informs him that his wife was raped by judge Turpin and committed suicide by consuming arsenic. The barber also learns that his daughter Johanna is now the judge's ward and the object of his lust.
Sweeney Todd's sole mission in life now is to extract revenge and kill judge Turpin and his henchman Beadle (Timothy Spall).
The barber turns into a horrific demon, who first kills a rival barber and mountebank Pirelli (Sacha Baron Cohen) for trying to blackmail him and then a whole bunch of innocent folk as they sit benignly in the barber's chair for a shave.
Each time Johnny Depp slits a throat with his shining razor, he sends the body sliding down a hidden chute into the basement.
Adding to the horrifying amalgam of Sweeney Todd, Mrs.Lovett sees an opportunity in all the dead bodies that keep piling up in the basement. In her grotesque scheme, the dead end up as meat pies after being processed through the meat grinder.
Mrs.Lovett's pies, once the worst in London, now sell like hot cakes. She hires a young lad Toby (Edward Sanders), previously the ill-treated apprentice of Pirelli.
But Sweeney Todd's journey of revenge can end only in a tragedy that's horrific for him and his unsuspecting victims and doubly horrific for Mrs.Lovett.
There are multiple love stories running in parallel in Sweeny Todd – Mrs.Lovett's love for Sweeney, his sailor friend Anthony Hope's love for Johanna and Judge Turpin's love/lust for Johanna.
One of the great actors of our times, Johnny Depp delivers a jaw-dropping performance in Sweeney Todd.
Depp is better – and more fascinating to behold – in Sweeney Todd than even in the wildly successful Pirates of the Caribbean troika or the less than successful Libertine.
If Johnny Depp's powerful performance in Sweeney Todd left us gasping, the legendary Stephen Joshua Sondheim's music and the lyrics sent us into a lengthy orgasmic shudder. The movie, in fact, is based on Sondheim's Broadway musical hit of the same name.
Many parts of the movie like Sweeney's past are narrated in song. No Place like London, Worst Pies in London, My Friends, Pretty Women and Johanna charmed and bowled us over.
Alas, Sweeney Todd is unlikely to find much favor with Indian audiences addicted to mediocre Bollywood, Kollywood or Tollywood productions where talentless actors gyrate to asinine music in bizarre settings like Brazil, Maldives, Australia and all the places in between.
Of course, our unimaginative Bollywood bozos are also incapable of making a movie like Sweeney Todd in a millennium.
Words like awesome or masterpiece are not hyperbole and come easily for a movie like Sweeney Todd.