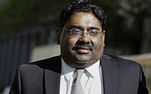 Sri Lankan Tamil hedge fund billionaire will be a guest of the American prison system for the next 11 years for insider trading.
The sentence is the longest ever for insider trading.
Judge Richard J.Holwell, who sentenced Rajaratnam today, also fined him $10 million and ordered the forfeiture of $53.8 million.
Judge Holwell said:
Insider trading is an assault on the free markets…His crimes reflect a virus in our business culture that needs to be eradicated.
Rajaratnam, founder of the Galleon Fund, was found guilty on 14 counts of securities fraud and conspiracy by a 12-member jury in May.
Given Rajaratnam's health problems (the man supposedly has advanced diabetes), we doubt whether he will ever smell the roses or see a Rajinikanth film again.
We don't know if Rajaratnam loves Rajini films but even if he does, not much he can do 'bout it. 😉
But the man has lots of money.
So, don't rule anything out yet. Most likely, the sentence will be appealed. 🙁
Related Content:
Tamil Hedge Fund Manager Raj Rajaratnam Convicted