Apple's fiscal first quarter (ended December 31, 2011) results were like its products – sizzling.
The company reported a profit of $13.06 billion ($13.87 per share) on revenues of $46.33 billion.
* Click here to see Apple's Segment-wise Results for Fiscal Q1, 2012
iPhone, iPad Going Gangbusters
No surprise that sales of the company's hot iPhone 4S and iPad 2 were at a scorching pace during the holiday season.
During the quarter, Apple sold 37.04 million iPhones, a 128% unit growth over the year-ago quarter.
Tablet sales came in strong too.
Apple sold 15.43 million iPads, a 111% unit increase over the year-ago quarter.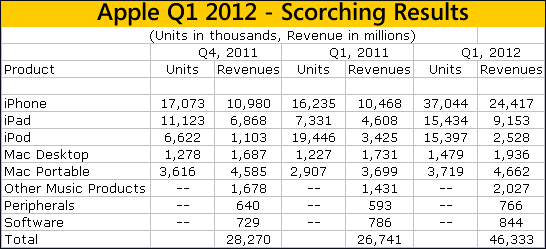 Sales of Mac computers grew modestly in comparison.
Apple sold 5.2 million Macs (including an iMac to us), a 26% unit increase over the year-ago quarter.
Sales of the iPod music and video devices hit a pothole again as their functions have been subsumed in the iPhone. Apple sold 15.4 million iPods, a 21% unit decline from the year-ago quarter.
For the current quarter, Apple set a modest revenue target of $32.5 billion and expect diluted earnings per share of about $8.50.
Related Content:
Apple's Segment-wise Results for Fiscal Q1, 2012