Despite powering dozens of tablets including the Amazon Kindle Fire, a new survey shows Android's market share in the tablet market at just 39.1% in the fourth quarter of 2011.
Something must be seriously wrong with the Android software if so many vendors including Sony, Acer, Asus, Samsung, Motorola etc are struggling to get some momentum for their devices.
So far the only way most Android Tablet vendors have been able to move their devices off the shelves is by repeatedly cutting prices to a few hundred dollars below comparable Apple iPad models.
But for those price cuts, Android's marketshare would have been still lower.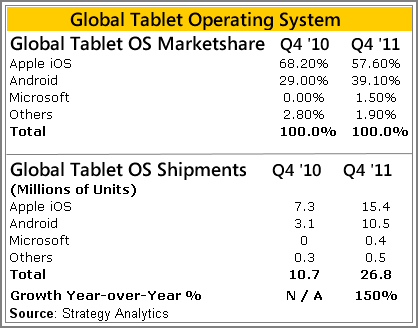 The only Android tablet that's gained some traction so far is the cheap $199 Amazon Kindle Fire.
Apple has been able to keep its tablet prices obscenely high because the competition has been unable to get its act together.
iOS Still Numero Uno
Apple iOS continues to be the tablet king with 57.6% of the tablet market in the fourth quarter of 2011, according to a recent survey put out by Strategy Analytics.
Apple shipped 15.4 million units in the fourth quarter compared to 10.5 million units by all the Android vendors combined.
Global tablet shipments hit 66.9 million units in full-year 2011, surging 260% from 18.6 million in 2010.
It seems consumers are increasingly going in for tablets in preference to netbooks and even entry-level notebooks or desktops.