Uh oh, not one more.
The Bollywood streaming business is looking increasingly crowded lately in the U.S.
Besides the 800-pound Goliath Netflix (peddles Bollywood, Hollywood and other content), there's BollyVerse, Databazaar, YuppTV, ChannelLive, Mela and a bunch of regional language offerings for desis in Amreeka.
As if all that weren't enough, now comes a new Hindi movie streaming service called Spuul with a combination of free and paid rentals and a worldwide footprint.
Spuul rolled out its service Tuesday.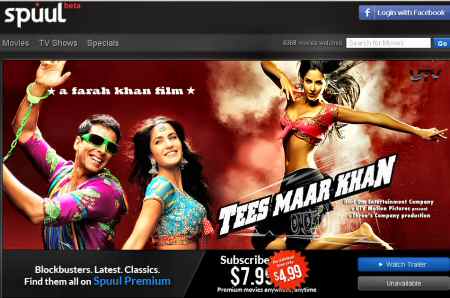 Spuul's paid rentals come in two flavors – a $4.99 per month subscription and a 99-cent pay-per-movie offering.
Spuul also relies on ads to support its service.
To watch the free movies on Spuul, users must log in via their Facebook account. Here's the catch – you must allow Spuul to post on your behalf, including status updates, photos and more; Access your custom friend lists; and Access your profile data.
Well, we guess there's no Free lunch in life and Free extracts its price one way or the other.
But what's worse is that even the premium paid options require users to log in via Facebook.
That is nonsense.
Spuul must allow users who wish to join their paid premium service to sign up without the Facebook hassle.
That's what Netflix, Mela and many others do. And that's the right way for paid premium services.
How Does Spuul Work
Spuul is supposed to work on both PC/laptop and TV (via Apple AirPort or Roku).
We couldn't get it to work on TV via the Roku set-top box because we didn't even see Spuul in our Roku channel list. Perhaps, it's still in the works.
Au contraire, other Indian movie/TV channels like Mela, BollyVerse, Databazaar, ChannelLive, Yupp etc are already available on Roku.
On the PC, we got an error message when trying to watch Khalnayaak, a 'free' movie (we'd set our Facebook setting to let Spuul access only our profile data).
Here's the error message we got on the PC while trying to access a Spuul "Free" movie:
Error 400 Bad Request

Bad Request
Guru Meditation:

XID: 1107080120

Varnish cache server
Will Spuul Succeed?
We remain skeptical that Spuul can make much headway on the paid subscription side, at least in the U.S.
A lot of Indians are notorious thieves, preferring to illegally download movies or rent pirated DVDs of new releases from their neighborhood desi grocery stores in the U.S.
Content piracy is very high in India and we have no reason to believe Indians in the U.S. are any different from their brothers, sisters and friends in the homeland.
Plus, Spuul suffers from a big drawback.
It offers only Hindi movies while rival services like Mela offer Tamil, Telugu and other regional language films for $4.99 per month. But Mela doesn't offer a free option.
Netflix offers a $7.99 per month streaming service with tons of content (no commercials) but only a limited number of Bollywood movies.
Spuul – Future Plans
Spuul plans to launch an app on Apple's AppStore to let users view movie on their iPad tablets and iPhones.
The app will let users start watching on one device (for instance, a TV), pause and resume on another (iPhone or iPad).
S.Mohan (founder of Palo Alto-based Accellion and other technology companies) and media entrepreneur Sudesh Iyer are the founders of Spuul.