Some Indian startups get off on a wrong footing with customers even before their commercial launch.
Take for example Mela.
An online Indian movie and TV services provider to desis in the U.S., Mela is supposed to roll out its paid Indian movie service on February 1.
But even before the launch the fledgling has started earning the ill-will of customers through double billing and early billing problems, iPad issues and inadequate customer service.
With offices in California and Bangalore, Mela offers customers Hindi, Tamil, Telugu, Punjabi, Marathi and Bengali movies online via the Roku box or on the iPad and live Indian TV channels through its set-top box.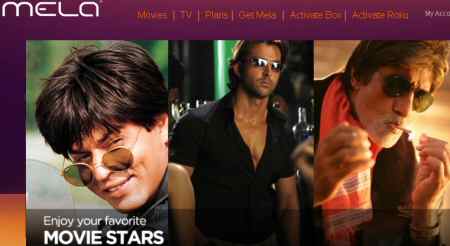 Here are some issues we encountered with the Mela movie service.
Billing Problems
* Billing is supposed to start only on Feb 1 since the service is free through January 31 (that is today). But it seems the company got itchy to see some dollars and billed customers a couple of days before the free trial expired. Such cheap practices leave a nasty taste in the mouth.
* As if early billing was not bad enough, Mela compounded the problem through double billing. To make matters worse, the company did not care to proactively address the issue and waited for customers to complain. Mela blames the double billing on technical glitches and promises to 'fix it' within two days.
Given these billing snafus, we were not in the least surprised to receive a call from Citibank's early fraud detection department a little while ago to warn us about the $4.99 charge on our card.
iPad Issues
Besides the billing issues, Mela customers are also grappling with problems on the iPad.
We could not sign up for the Roku service on the iPad despite repeated attempts (a Mela U.S. representative was on the line with us during our futile struggle).
Only when the registration was initiated and done on the PC did it work.
Second, the number of movies available on the iPad is very anemic compared to what's available on the Roku+TV.
For instance, there are only four Tamil films on the iPad version of Mela but dozens on the Roku+TV version.
The company says it needs to convert the movies to the iPad format and promises to do so soon.
We were unsure whether there's a separate fee for viewing movies on the iPad since there's no link to the iPad service from Mela's home page.
Mela's customer service in India said customers would have to set up a separate account for the iPad and pay an additional $4.99 fee/month.
But they could not initially point to a section on their web site for details on the iPad service. They called back a couple of hours later to provide the link ( http://www.mela.com/ipad ) and informed us the iPad service would get deactivated today although the web site says the free iPad service would be available until February 10.
When we pointed out the discrepancy, they conceded it would be available until February 10. Subsequently, we found details on the iPad pricing on the tablet itself (look on the Apple AppStore).
Mela vs Netflix
Mela's biggest competitor is obviously Netflix.
Netflix offers both DVD and streaming services with a cornucopia of movies including Hollywood, Italian, Japanese, Korean, French, German, Bollywood, Tamil, Chinese, Danish etc.
However, Netflix is weak on the streaming front when it comes to Indian content although it seems to be improving lately with Hindi movies.
But Netflix does not charge separately to stream movies to the iPad. With Netflix, you get to see tons of movies and TV shows on TV (via Roku), PC or iPad for a single $7.99 price per month.
Mela, which is a streaming only service, charges $4.99 each for the TV and iPad per month on the ground that they are different platforms.
That does not seem like a wise move in our not-so-humble opinion since Mela is positioning itself as a low-priced competitor to Netflix and Comcast.
Mela should have stuck to a Netflix-like $7.99 fee and let customers enjoy the content wherever they please – TV, iPad or even a big-screen PC like iMac.
Surely, customers won't relish the pain of maintaining separate accounts and being nickled and dimed for each service separately.
On the Content Front
In an e-mail, Mela's VP of marketing Pankaj Bhushan says the service will offer over one thousand Indian movies with English subtitles for 100 films initially.
The goal is to have subtitles for all Bollywood movies by the end of April 2012.
Thousands of Roku owners are said to have added the Mela channel.
But how many are actually using it remains unclear. We have several channels on our Roku box rarely watch many of them.
Mela is chasing after Indians who sign up with Netflix or Comcast to watch movies and pitching itself as superior.
But Mela's claims to have 100x Bollywood streaming movies that Netflix has is inaccurate. We counted about 98 Bollywood movies on Netflix streaming. And there's no way Mela will have 9,800 Bollywood films even after commercial launch.
Pankaj told us in the e-mail, "Look forward to getting feedback from each one of you."
Take this post as our feedback, Sweetie! 😉
Mela – On the Positive Side
We watched one full movie and bits and pieces of a few others via the Mela movie service.
There were no issues on the quality front either on Roku/TV or on the iPad.
But if Mela wants to be a viable alternative to Netflix for desis in the U.S., it must quickly address the billing and iPad issues, prevent such events in future, ramp up customer service and have a single pricing for multiple platforms. Until that happens we don't expect to see Mela gaining significant traction.
Update: Mela has since refunded the extra charges.