Chirag Paswan, without doubt..
Chirag who, I can hear all ye schmucks exclaim.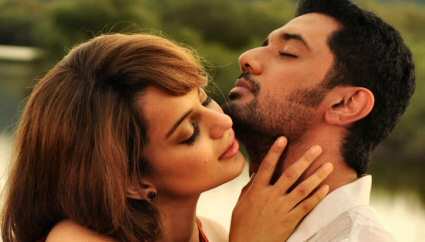 Miley Naa Miley Hum – Whip Me, Whip Me
Last night, I was in a terribly masochistic frame of mind.
Instead of taking the riding crop on the wall and flinging it against myself like those crazy Shia Muslims do during Muharram, l switched on my TV and headed to the Bollywood movie streaming service Mela via Roku.
And then, I pointed my remote at Miley Naa Miley Hum and clicked.
For the next two hours or so, it was misery.
Abject misery of a crappy movie amplified by Kangna Ranaut's doped out appearance, no makeup, weird outfits and hopeless acting.
What, however, stood out amidst the endless drivel of Miley Naa Miley Hum was Chirag Paswan's spark.
Of course, Chirag is no Om Puri, Naseeruddin Shah or Irrfan Khan.
But in a Bollywood littered with rat droppings like Bobby Deol, Bachchan Jr, Riteish Deshmukh, Tushhar Kapoor etc, it's a surprise to see a new actor like Chirag Paswan showing a spark of talent.
Miley Naa Miley Hum is Chirag's first movie and obviously the young lad needs to hone his acting skills a lot, lot more.
Even a tiny spark of talent in a young man is seldom seen in Bollywood.
Not surprising considering most Bollywood debutants are the offspring of established stars and take their opportunities for granted.
Whether Chirag's spark of talent can be ignited into a mature actor/star depends on so many factors – luck, producers' willingness to bet on him, the young lad's perseverance etc.
However, one thing's for sure – Chirag Paswan does not need the "Reservation" category to claim his place in Bollywood.
Miley Naa Miley Hum Horror
If you want to know more about Miley Naa Miley Hum, it's the story of a wealthy young fellow Chirag Mehra (Chirag Paswan) unhappy about his parents' divorce.
He shuttles between his parent's homes, spending a month helping out in his father's vineyard business and a month at his business magnate mom's place.
Kabir Bedi plays Chirag's father and Noorie girl Poonam Dhillon his mother.
Desperate to find a way out of his parents' match-making machinations, Chirag hires a struggling model Anishka (Kangna Ranaut) to pretend to be his girlfriend.
Before long, cupid's dart has pierced the hearts of both youngsters.
Alas, the romantic angle was handled in the sloppiest of manners.
Among the supporting cast, I found Kabir Bedi and Kunal Kumar, who plays Chirag's buddy Prateek, all right.
Poonam Dhillon was downright pitiful but a shade better than Kangna.
The two women Poonam and Kangna threw me into a funk. Their makeup, their acting, nay their very presence on the screen got my goat.
A Dud
Apparently, Miley Naa Miley Hum didn't make much of an impact in India.
Thank God for that.
I can't be sure this movie even made it to the U.S.
Just in case you guys are unaware, Chirag Paswan is the son of Bihar politician Ram Vilas Paswan.