Dark Knight Rises Review – Disappointing
With just 10-days to go for the release of Dark Knight Rises in the U.S., the publicity machine for the newest film in the Batman series is in full gear.
This morning as I was walking around Midtown Manhattan my eyes repeatedly fell upon huge posters and ads for the film.
They're all over the place.
Billboards in Times Square, on buses and where not.
And why not?
After all, the Batman films are set in Gotham City (a fictional stand-in for New York City).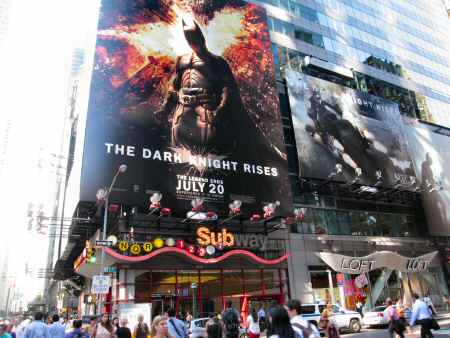 Dark Knight Rises in Times Square NYC
By the way, the Wiki profile of the film mentions that some pieces of Dark Knight Rises were shot in Jodhpur, which in case you schmucks didn't know, is part of Mera Bharat Mahaan.
Bet you didn't know Batman's connection to Jodhpur!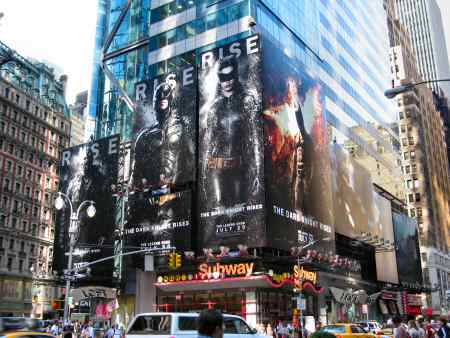 Dark Knight Rises on 7th Ave & 42nd St, NYC
Christopher Nolan directed Dark Knight Rises, which features Christian Bale, Gary Oldman, Anne Hathaway, Tom Hardy, Marion Cotillard, Joseph Gordon-Levitt and my eternal favorites Morgan Freeman and Michael Caine.
The last Batman film, Dark Knight, came out in July 2008 (after Heath Ledger's untimely death).
Related Stories:
Dark Knight Rises Review – Disappointing