I hate Budweiser Beer.
Like Tamil actor buffoon Ajith's movies, it reeks of poor quality.
But I made an exception and got myself a Budweiser.
Know why?
After seeing Billa 2's disastrous box office numbers, I wanted to celebrate by quaffing the biggest bottle of beer.
And Budweiser was the biggest in the liquor store at 40 fl oz.
Cheers, SI. 😉
Cheers!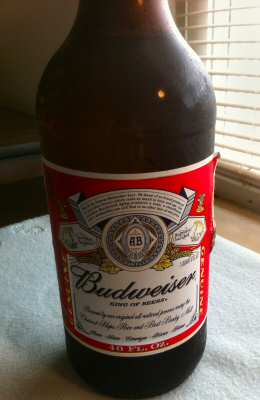 Billa 2 Fails – Celebration Time
Ajith – Worthless Actor
If I've said this once, I've said it a million times.
This Thala, Ultimate Star or wateva asinine appellation you give to Ajith it ain't gonna make no difference to kuppae (trash), because Ajith wouldn't recognize acting if it spat at him squarely on his face.
One of India's worst actors, this shameless bozo makes no attempt to improve his acting skills.
In movie after movie, Ajith prances around like a korangu on hooch (drunken monkey) making a mockery of the art of acting.
So, we're inordinately happy to see that Ajith's latest misadventure Billa 2 is a mega disaster.
Ajith – No Longer King of Openings
Guys, Billa 2's opening weekend collection at the UK box office is worse than Kuruvi, one of the worst movies ever made.
For the July 13-15, 2012 opening weekend, Billa 2 had a gross of just £72,120.
Pitiful opening for Billa 2 after all the hype.
The per theatre average for Billa 2 is a disgraceful £3,796, one of the lowest for an actor of Ajith's stature.
And this pitiful performance comes after the mountain of hype unleashed by the film's producers – Ajith did the dangerous helicopter stunts, Ajith's amazing action scenes, Ajith blah blah blah.
Folks, I do not believe that this Billa 2 shit is a hit anywhere.
Of course, Ajith's rabid dog fans will emerge from the sewers now to proclaim that Billa 2 has grossed more than Dark Knight Rises (although, it has yet to release) in Tamil Nadu alone.
Ha ha ha ha.
See the below table to understand how badly Billa 2 has fared at the UK box office vis-a-vis some prominent Tamil movies.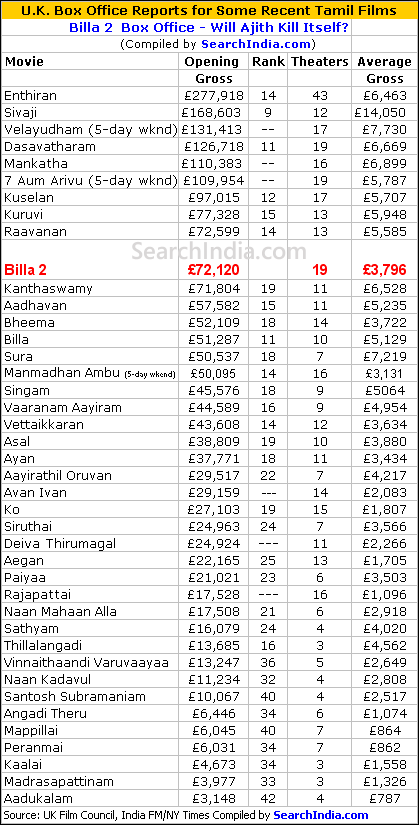 As the bard wrote so eloquently five centuries back:
Foul deeds will rise
though all the earth o'erhelm them, to men's eyes
Now, if you'll excuse me I'd like to get back to my Budweiser.
Remember, I'm celebrating failure!
Billa 2's failure. 😉
Related Stories:
Billa 2 Review – Frustratingly Bad
Ajith's Billa 2 Opens to Poor Reviews