Telugu bidda Raghunandan Yandamuri should have slashed his wrist and killed himself like the Dewey Beach murderer Pawan Kumar Anjaiah (a Kannadiga hailing from the South Indian state of Karnataka), who committed suicide in June 2012 as the police were closing in on him.
Now 26-year-old Raghunandan Yandamuri's life has turned into a hellish nightmare, and it will be that way for the rest of his life.
Yandamuri was arrested Thursday for the murder of an elderly Indian lady Satyavathi Venna and her young grandchild Saanvi Venna.
Police are charging Raghunandan on multiple counts – Murder of the First Degree, Murder of the Second Degree, Kidnapping, Burglary, Robbery, Theft By Unlawful Taking and Abuse of Corpse.
Going by his name, Raghunandan Yandamuri appears to be a Telugu, a language spoken mostly by residents of the South Indian state of Andhra Pradesh.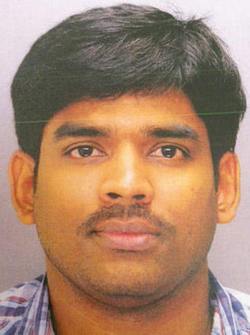 Raghunandan Yandamuri
Too Dumb Not to Kill Himself
U.S. media reports say that King of Prussia, PA resident Raghunandan Yandamuri has already confessed to the police of kidnapping and killing 10-month-old Saanvi Venna and murdering the child's grandmother Satyavathi Venna.
Satyavathi Venna was found murdered on Monday and her granddaughter Saanvi Venna missing. The elderly woman was murdered with a knife as she resisted the abduction of her granddaughter.
After extensive search, the 10-month-old baby was found hidden beneath a bench in an unused basement sauna in the Marquis apartment complex where both Raghunandan and his victims lived.
What Chutzpah
It seems, Raghunandan, a family friend of Saanvi's parents,  actively participated in the search efforts to find Saanvi Venna, posted "missing child" posters, distributed fliers and even attended a vigil.
After killing the two and robbing the apartment of jewelry, Raghunandan had sought a ransom of $50,000 from Saanvi's parents Siva Venna and Latha Punnuru (both software engineers).
"It's up to you to decide, do you want your 1-year-old or five months of your income?" Raghunandan's ransom note said.
What tipped off the police that the killer was a person known to the family was the use of words "Siva" and Lata" in the ransom note. Siva's full name is Venkata Konda Siva Venna, and his wife's name Chenchu Latha Punuru.
The police started tracking the people known to the Venna family and ultimately zeroed in on Raghunandan Yandamuri.
Saanvi Venna: Life Cut Short
Yandamuri – Death Penalty Likely
Yandamuri has been arrested and will likely face the death penalty as this is a particularly gruesome crime that also involved kidnapping for ransom.
Even if he escapes the death penalty, Raghunandan will find life in prison hellishly miserable considering child molesters and child murderers have it badly from other inmates.
Unless Raghunandan Yandamuri is kept in isolation from the general population in prison he's likely to suffer brutal attacks from other inmates soon.
It's hard, almost impossible, to understand why Yandamuri  didn't turn the knife on himself.
Raghunandan Yandamuri is married and his wife is pregnant.
Telugu Invasion
Over the last decade or so, there's been a massive Telugu influx into the U.S., many with fraudulent documents.
A lot of them have come here as software engineers but with the economy turning south and the competition intensifying, many Telugus have now turned to the restaurant business, hoping Dum Biryani would be their passport to riches.
Alas, the Dum Biryani business has also become crowded and can only lift so many Telugu boats.
Given that there are few opportunities these days even for Americans, it's hard to imagine what this large group of Telugus can do other than resort to crime.
Related Content:
Telugu Gambler Raghunandan Yandamuri's Crime Gamble Failed Big Time
Essential Facts about Raghunandan Yandamuri
Police Complaint on Telugu Bidda Raghunandan Yandamuri