Update: Telugu Bidda Raghu Yandamuri Execution Date Set for February 23, 2018

The whole world knows Telugu bidda Raghunandan Yandamuri was arrested by Montgomery County, PA police on October 26, 2012 and charged with the kidnapping and murder of 10-month-old Saanvi Venna and the murder of her 61-year-old grandmother Satyavathi Venna.
But the world, at least the Indian world, does not know what comes next in the Pennsylvania legal process.
In this post, we shall explain the steps involved in Raghunandan Yandamuri's case through a chart and some analysis: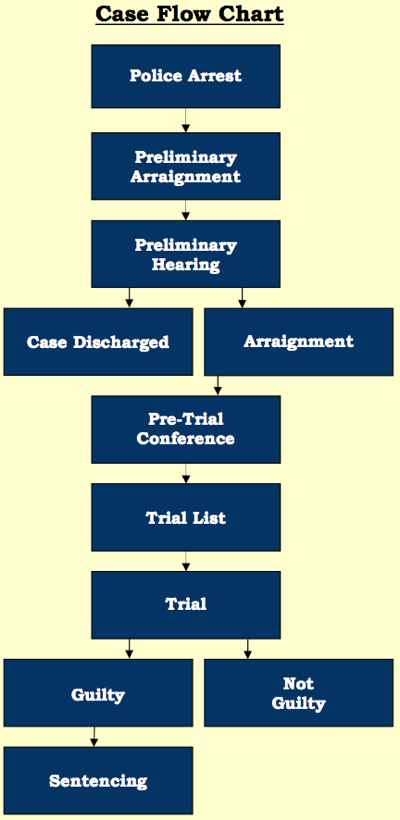 Source: Montgomery County District Attorney's Office, PA
In the above chart, only the first two steps have been completed in the Raghunandan Yandamuri case
* Arrest – Raghunandan Yandamuri was arrested on October 26, 2012 by detectives of the Montgomery County.
* Preliminary Arraignment: Raghunandan Yandamuri was produced before Magisterial Judge James Gallagher on October 26, 2012 at 2:30PM and remanded to custody without bail since this is a capital offense of murder. A capital offense is one where the accused is eligible for death penalty if found guilty.
* Preliminary Hearing: Originally scheduled for November 2, postponed to November 14 and again postponed to November 28.
A lot of what happens next hinges on the Preliminary Hearing scheduled for 9:30AM on November 28, 2012.
During the perp walk, when he was asked by reporters how he could kill a baby, Raghunandan Yandamuri responded:
I am not the one.
Is that a hint that Raghu Yandamuri had already made up his mind to fight the charges against him tooth and nail?
Likely not.
Raghunandan Yandamuri does not have a team of attorneys to defend him since he appears to lack the money to hire private attorneys.
Instead, Raghunandan Yandamuri has to depend upon a Public Defender, who is constrained by limited funds,  limited resources and limited expertise in fighting a case of this magnitude.
Raghunandan Yandamuri will also have to worry about the implications of a long-drawn out case on his pregnant wife Komali Alokam, a housewife.
If Raghu Yandamuri Pleads Guilty
Should Raghunandan Yandamuri decide to plead guilty during the preliminary hearing, the legal drama will get over soon after the sentencing and we can expect one of the two  outcomes:
1. Raghunandan Yandamuri will get life in prison (an American prison, not an Indian prison) without parole.
But his life in prison will be a nightmare if he's thrown into the general population.
Baby killers and child molesters are held in extremely low regard by other prisoners and Raghu will soon suffer grievous injury or even death at the hands of one of the inmates.
2. Raghunandan Yandamuri is awarded death penalty.
Raghunandan Yandamuri will be moved to Death Row.
If Raghu Yandamuri Does Not Plead guilty
If Raghunandan Yandamuri does not plead guilty, we can expect a lengthy court process that could take several months.
At the end of the trial, Raghunandan Yandamuri could be found guilty (see above) or walk out an innocent man.
Death Penalty in Pennsylvania
Although Pennsylvania is one of the American states that allows for death penalty, it has not executed any one since 1999.
A legislative panel studying the efficacy of death penalty has recently recommended to the state's Governor Tom Corbett that no executions be carried out until it submits report in December 2013.
In any case, even if Raghunandan Yandamuri is found guilty and awarded death penalty  it'll be at least 10 years before he is executed via lethal injection depending on various factors including resumption of executions and appeals if any filed by Raghu.
Pennsylvania is said to have 200 people on Death Row.