* Gautham, do you understand Tamil enough to know that a lifeless film like Neethaane En Ponvasantham is what we Tamils slam as a Blaydu Padam (Epic Bore)?
* Machchi, did you realize that serious movie buffs who have watched Neethaane En Ponvasantham will consider you to be a Kilpauk Case having completely lost your marbles?
* Dai Yechakale, did it take you less than a couple of hours to pen your latest outrage, Neethaane En Ponvasantham?
* Gautham, do you understand that sane film-goers will shudder at the insanity of a 'storyline' suggesting Nithya and Varun were in love from the ages of eight through 24?
* Menon, given the hopeless absence of a meaningful story in the film should we assume that Alva kudukradhu comes asalta for you?
* Were you on Sulphata Sarakku when you made Neethaane En Ponvasantham because the movie makes absolutely no sense, not even as the romance you pitch it?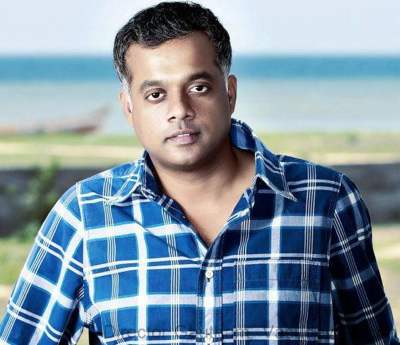 Gautham Vasudev Menon
(Pix courtesy: Facebook)
* Maramandai, does it make any sense that an extremely wealthy and intelligent girl like Nithya has nothing better to do in life than stick like a leech to a guy from a much lower economic strata?
* Sweetie, do you ever watch movies that are not made by you?
* Tubelight-Mama, after 12-years of making movies why is it still that hard for you to make a watchable movie with a decent script?
* Oh, pray tell us why despite being obsessed with Varun and being with him all the time Nithya knows so little about his family or their financial situation?
* Menon, did it not strike you that by making Santhanam's comedy track the main track Neethaane En Ponvasantham would have been a million times better and a billion times more endurable?
* Would you overdose if I told you that the audience for the premiere show of Neethaane En Ponvasantham was utterly bored and came to life only during Santhanam's zany dialogs or antics?
* Porambokku, was it your brainwave that a lot of crucial scenes in the film should be captured by long-shots so that the audience can see little of the emotions in the faces of Jiiva and Samantha??
* Menon, what would you tell Tamil movie fans if Ilayaraja commits harakiri upon seeing how you massacred his fine music with rotten picturization?
* Thambi, would your ego take a beating if I suggest you educate yourself on the craft of film-making before making your next film by watching some fine foreign films like Polisse, Hedgehog, A Separation, Monsieur Lazhar and Attack?
* Kasmaalam, do kids in Tamil Nadu get on the high-intensity Lookku vudaradhu romance track in iskool itself as you suggest in Neethaane En Ponvasantham?
* Does it not make you feel guilty that I paid $15 to watch your latest offensive Neethaane En Ponvasantham and came out reeling in shock at your hopelessly amateurish attempt at film-making?
* Dai paruppu, do you think the entire Tamil population is full of baeku pasanga that they'll swallow the nonsense of seeing Jiiva (a father) play a school kid?
* Dhanda Soru, did you not feel the necessity of putting two mediocre actors like Jiiva and Samantha through intensive rehearsals before the shooting of the film commenced?
* Were you not horror-struck to realize that the semma figuru (Samantha) does not have a single acting cell in her entire petite body?
* Goiya, did no one tell you that you could have picked any Muniamma walking down Walltax Road and extracted a better performance from her?
* Paradesi, can you share the secret with 68 million Tamils how you get people to finance your inane movies?
* Kasmaalam, would you agree that without doubt this time your film has apu adchichu?
* Gautam Vasudev Menon, were you aware that in Madurai they call folks like you posaketta paya (போசகட்ட பய)?
N.B.: Folks, since Neethaane En Ponvasantham is an unendurably boring, vapid romance it richly deserves your raised middle fingers to this abomination.
Related Content
Tamil Slang