Vishwaroopam Review – A Daring Attempt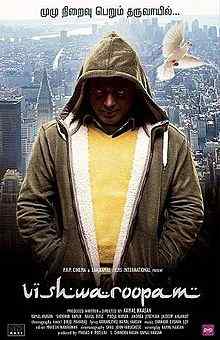 (Photo Courtesy – Wiki)
SearchIndia.com will post the review of Ulaga Madayan Dr.Kamal Haasan's banned film Vishwaroopam tonight.
You may expect to see the review by 3AM (U.S. Eastern Time).
South Indian film star Kamal Haasan has written, produced and directed the film.
Of course, Kamal Haasan has acted in the film too.
You can be sure Kamal Haasan will hog much of the screen-time.
Sorry, I have no idea if Kamal is playing 1, 2, or 10 roles in the film. 😉
About Vishwaroopam
Kamal Haasan is said to play a Kathak dancer and undercover agent (??) in the film, which has terrorism as its underlying theme.
The movie has been shot in the U.S. and India.
Kamal Haasan has been touting Vishwaroopam as a thriller.
Here's Kamal on Vishwaroopam:
It's not a social statement film. It's a thriller, which is realistic. It's thrilling, it's fast. It's about espionage but it's got its own texture. It's truth and beauty. It's not a documentary. It's not like Bigelow's film [Zero Dark Thirty ??] with grim truth. But it plays, it's around the same area, same theme.
Except for Nasser, the rest of the cast (Rahul Bose, Andrea Jeremiah and Pooja Kumar) are nonentities.
I've listened to the film's music and it's nothing to get excited about.
Related Posts:
Vishwaroopam Review – A Daring Attempt
Banning Vishwaroopam is So Wrong