Quick question – What's better than a single Uno Chicago Grill Farmer's Market (vegetarian) pizza?
Quick answer – Two Uno Farmer's Market pizzas.
You can say what you will but I find it hard to believe that pizzas from the big chains like Domino's, Pizza Hut or Papa John's are really meant for human consumption!
Of the national pizza chains in the U.S., the only pizza SI finds tolerable comes from Uno Chicago Grill.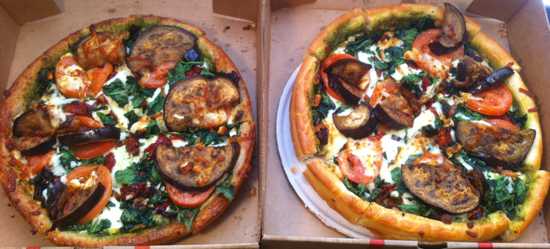 2 for $19.99 (a savings of $18)
Uno Farmer's Market Pizza (9-grain whole wheat crust on left, Regular crust on right)
Given my one foot in the grave and high cholesterol, I normally order only a single takeout pizza when the urge for a break from my Idli-Vada-Sambar-Rasam-Rice-Curry South Indian diet gets irresistible.
But when I saw the Uno 2 for $19.99 deep dish deal, desi greed reared up and throwing caution to the winds I droolingly called in the two pizza order.
Plus, the prospect of saving $18 (a single Farmer's Market pizza is an obscenely high $18.99) gave me an adrenaline rush. 😉
I have had the Uno Farmer's Market deep dish pizza on multiple occasions.
From the crust to the mozzarella and feta cheese and the toppings (eggplant, tomato, spinach, onion etc), I find little to complain about the Farmer's Market pizzas.
No question, these Uno deep dish pizzas have a depth their national peers sadly lack.
As you eat, you can discern that better quality ingredients have gone into their making.
Even after several hours, the Uno pizzas are still tasty and the crust edges don't become too hard.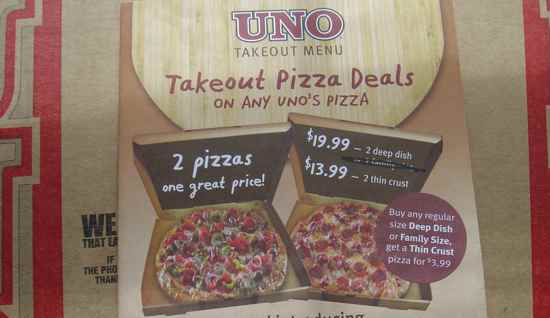 Farmer's Market Pizza Ingredients:
Here's what goes into your Uno Farmer's Market pizza:
Pizza Dough Mix (enriched bleached wheat flour [wheat flour, malted barley flour, niacin, ferrous sulfate, thiamine mononitrate, riboflavin, folic acid], soybean oil, salt, sugar, yeast), Low Moisture Part Skim Mozzarella Cheese (pasteurized part skim milk, cheese cultures, salt, enzymes), Tomatoes, Water, Soybean Oil, Onion, Eggplant, Spinach, Feta Cheese (cultured pastuerized part skim milk, salt, enzymes, calcium chloride), Basil Pesto (basil, canola oil, water, parmesan cheese [pasteurized part-skim cows' milk, cheese culture, salt, enzymes], granulated garlic, salt), Grated Romano Cheese (pastuerized sheeps milk, cheese culture, salt, enzymes, anti-caking agent), Parsley.
Nutrition Info (for One Pizza):
Clearly, eating two pizzas will not do much good to your waistline.
Take a look at the nutrition information from a single Farmer's Market pizza: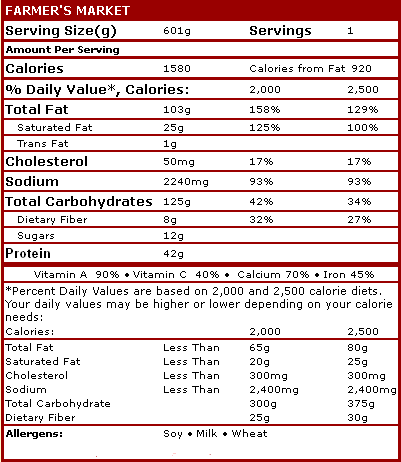 Uno – Careless Service
I hate it when my takeout orders don't include paper napkins.
There were none with my Uno order today.
Lazy bozos. 🙁
This shows Uno Chicago Grill doesn't care about its customers.
Attention to detail is what distinguishes the customer-friendly restaurants from the unfriendly places.
By the way, the 2 for $20 deal is also available for other Uno deep dish pizzas (Chicago Classic, Prima Pepperoni, Cheese and Tomato and Numero Uno) and thin crust pizzas (cheaper at $13.99).
You can even mix and match deep dish and thin crust pizzas (at a slightly higher price).
SearchIndia.com recommends Uno's 2 for $20 Farmer's Market pizza takeout deal.
Related Posts:
Uno Deep Dish Farmer's Market Pizza Review