All pizzas are not made equal.
Some are sadistically worse than the others.
Longing for a break from our usual Idli, Vada, Dosa, Pongal, Bisi-Bele Bath Indian fare, we headed to Uno Chicago Grill the other day to try, what else, one of their hallmark deep-dish pizzas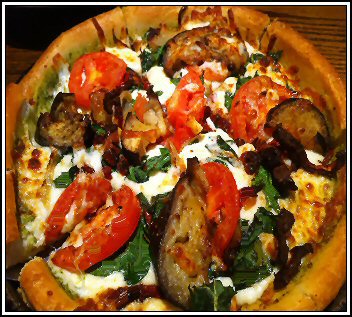 According to the folks at Wiki, deep dish pizzas do:
not include thin crusts or delicate toppings, but rather it is made with a heavy, thick crust and large amounts of cheese, sauce and ingredients.

The pizza begins with a thick layer of dough made with olive oil and cornmeal laid into a deep round pan and pulled up by the sides, then parbaked before the toppings are added to give it greater spring; the pan is oiled heavily in order to create a fried effect on the outside of the crust. The crust is covered with cheese (generally sliced mozzarella) and meats, usually in a solid layer or patty, just above the crust. Italian sausage (a Chicago staple), as well as vegetables such as onions, mushrooms and bell peppers are also used. A sauce, usually uncooked, made from shredded or puréed tomatoes is added.
When we eat pizza, we almost always go for the thin-crust in an effort to reduce cheese consumption. Plus, most of the chains like Domino's, Pizza Hut or Papa John use really crappy cheese. So, our logic is the less cheese the better.
But at Uno we were in an adventurous, game-for-anything' mood and so we picked the Farmer's Market Pie deep dish veggie pizza.
The Farmer's Market Pie comes with caramelized onions, spinach, sun-dried and plum tomatoes, eggplant, pesto, feta, mozzarella and grated Romano.
We also ordered some house salads and fries but for some inexplicable reason skipped the booze although Uno offers several varieties of beer, wine and all the standard cocktails.
As we were wolfing down the salad in our perennially famished state, our Farmer's Market Pie deep dish veggie pizza arrived on a pan with the cautionary advice from our elderly waitress Helen to watch out for the hot pan.
Quickly putting aside the salad, we fell upon the Farmer's Market Pie veggie pizza with gusto.
The first bite, and our feeling was like, hmmmm, this pizza is good.
Real good.
About three times the thickness of a thin-crust, the Uno deep-dish crust tastes slightly buttery and packs a wonderful flavor that has you hankering for another bite and another…..
The cheese is of superior quality (than what yours truly is used to at other chain stores). A thick whitish layer of Mozzarella is nicely married to the top of the crust. On top of the cheese, you have caramelized onion and eggplant cooked to a blackish brown hue, spinach and small juicy tomatoes pieces.Yummy!
The onions, eggplant, tomato and spinach were well-cooked and bonded firmly to the cheese/crust layer. No chance of them getting dislodged.
One could easily get addicted to the Uno deep-dish veggie pizza.
After gorging on the salad, fries and dessert, we couldn't finish the pizza and the thoughtful waitress offered us a box without our having to ask for it.
Boy, several hours after we returned home, the pizza still tasted good (unheated). Now, that is something you can never, ever say about pizza from Pizza Hut, Domino's, Papa John and many other small pizza places.
Disgustingly Bad Fries
When we go to a non-Indian place to eat, we start craving French Fries.
It's kind of a Pavlovian response.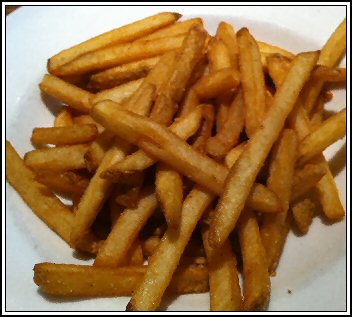 So, not surprisingly we ordered French Fries at Uno too.
Bad move.
The Uno fries ($2.99) came piping hot to the table but were pitiful. It looked unappetizing and, boy, did it taste unappetizing. Sure did, fellas.
It was way too salty and not crisp enough for our demanding palate.
Which moron cooked these fries, we wanna know coz our boots are dying to make contact with her/his backside.
Heavenly Dessert
Wow! Wow!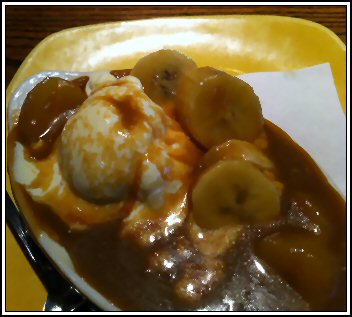 Vanilla ice cream covered with a sauce of banana, rum and brown sugar, this one quickly got us all sopping wet between the legs. 😉
We took our long dessert spoon, scooped some vanilla ice cream, dipped it into the thick brown sugar sauce and the rum and picked up a banana slice at the end. Moments after the combination made contact with our palate, a body-rippling orgasm took hold of us.
Hey, we still haven't stopped coming.
With a nice but not overpowering flavor of rum, Uno Grill's Bananas Foster dessert is heavenly.
Bananas Foster comes in two sizes (full and mini).
Keeping our decrepit health in mind, we opted for the mini this time. Sadly, the mini had just one scoop of Vanilla ice cream. Next time, we're gonna throw (health) cautions to the wind and order the full size with four vanilla scoops and all that divine brown sugar sauce and rum.
Vegetable Soup – Skip It
A close second to the crappy fries, the vegetable soup ($4.99) was a waste of money.
With a slightly chemical taste characteristic of canned soup, the soup certainly did not endear itself to us. It was not that hot (temperature) either.
White Bastion
During our visit to Uno Chicago Grill in Dover (Delaware), the place was 99.9% White (customers), the 0.1% exception was us. The manager (White guy), he with the face of a chimp, the walk of a water buffalo and the manners of a pig, walked down the aisle between the booths near us and spoke to all the patrons except us. He stopped for a second, as if to talk to us, looked at us from the corner of his eyes, quickly changed his mind, and then turned to the young White couple on the opposite side from us, made small talk with them and then slunk away. We hope the pr*ck gets fired, loses his home and dies a painful death. 🙁
But our past-60 White waitress Helen was alright. Except, when she was yakking away to two white women and took her sweet time to pick up our credit card. Don't keep us waiting ever again, honey!
SearchIndia.com heartily recommends Uno Chicago Grill Dover (DE) for the pizza and the Bananas Foster dessert. Just steer clear of the fries and veggie soup.