No, you're not dreaming.
And I'm not drunk.
I know, I know, these days crazy shit is coming to light every day in America. Widespread domestic spying, stories of a U.S. missile downing TWA 800 in 1996 etc.
But what follows takes the cake in sheer madness.
After bailing out Wall Street scumbags and outsourcing military and intelligence operations to private contractors, America is now preparing to bail out gambling dens a.k.a. casinos.
Utter insanity!!
The mid-Atlantic state of Delaware will soon bail out the three casinos in the state because they are said to be in a bad shape.
Worse, one of the casinos is now threatening to throw its employees on the street if the government does not provide it with financial concessions.
That's what happens when states focus on unsavory activities for revenue.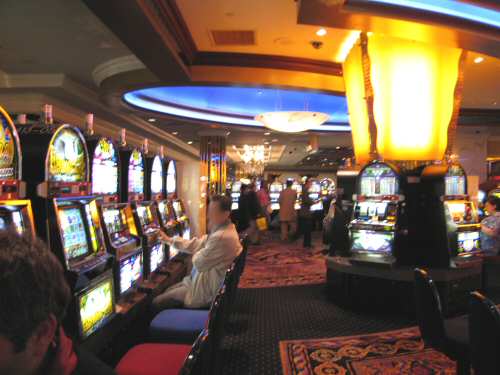 Can't Handle Competition
Dover Downs, the largest of Delaware's casinos, recently upped the ante and warned it would fire hundreds of employees and close restaurants if the state does not provide financial concessions soon.
If you think we're valuable enough from a revenue generation standpoint and a jobs provision standpoint, do something to help us.

– Dennis McGlynn, Dover Downs casino CEO
Delaware's casinos are in bad shape because they're unable to handle competition from neighboring states like Maryland and Pennsylvania.
Despite lower taxes on slot machine revenues, Delaware's casinos are struggling.
To help out these losers, Delaware Governor Jack Markell intends to hand out $8 million in state funds to the three casinos.
The money will be distributed between Delaware Park (in northern Delaware), Dover Downs (central Delaware) and Harrington Raceway (lower Delaware) in a formula still to be worked out.
Dover Downs' casino executives are already whining $8 million won't be enough and that they were expecting more.
Unfortunately, gambling is a major source of revenue for the Delaware state.
But as neighboring states like Maryland and Pennsylvania permitted gambling and casinos opened up there, Delaware took a hit because the casinos' management in the state were not up to the challenge of handling the competition.
Last year, casinos and lottery together brought in $269 million to the Delaware state kitty. This year it'll be a lot lesser.
Also, Delaware's casinos lack the glitz and racy charm of Las Vegas' casinos.
Nobody, nobody will ever tell you, "What happens in Delaware stays in Delaware." 😉

Capitalism – American Style
Bailing out Wall Street giants like Goldman Sachs etc and casinos like Dover Downs, Harrington Raceways and Delaware Park seems like the acme of insanity at work.
Capitalism in its essence is letting the market forces work – To use a gambling metaphor, let the chips fall where they will.
Alas, bailing out bozos from the consequences of their follies – Yes, that's how capitalism works in America today.
Bailouts for the undeserving, and endless misery for the middle and lower classes is the credo of our politicians these days.
At this rate, it won't be long before America bails out the (legal) whorehouses in Nevada.