Driven by strong downloads from smartphone and tablet users in India and Brazil, app downloads from the Google Play app store were higher than from Apple's App Store in the second quarter of 2013.
This is the first time downloads of Android apps from Google Play have exceeded iOS app downloads from Apple's App Store.
According to app download tracking service App Annie, downloads of Android apps from Google Play was 10% higher than iOS app downloads from Apple's App Store.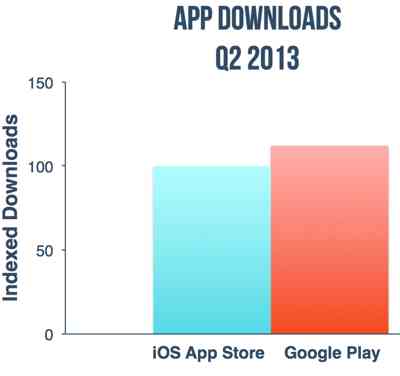 Google Play's growth vis-a-vis Apple App Store is not surprising as Apple's iOS mobile software has been losing ground to devices running Google's Android platform.
Apple's share of the smartphone has been declining while that of Android vendors like Samsung rising.
In the first quarter of 2013, Samsung's smartphone marketshare was 32.7% while Apple had fallen to 17.3%.
Emerging Markets
App Annie's number crunchers found that Google Play downloads in the second quarter were driven by emerging markets where Android devices are popular because they're cheaper than Apple's iPhones and iPad tablets.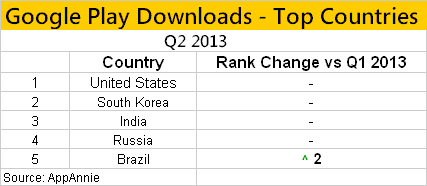 Brazil climbed two spots and joined India and Russia in the top five countries by downloads for Google Play.
Gaming apps provided a big push to Google Play downloads in Brazil.
Android smartphones from Samsung, Nokia, HTC, LG and less known Chinese brands are much cheaper than iPhones or iPad tablets.
Samsung, Nokia, HTC and LG also have the advantage of established distribution channels to market and sell their Android devices.
App Revenues – Apple Leads
But when you look at revenues, the picture is completely different.
Revenues from Apple's App Store continue to be way higher than the Google Play store.
In the second quarter, Apple App Store revenues were 2.3x that of Google Play.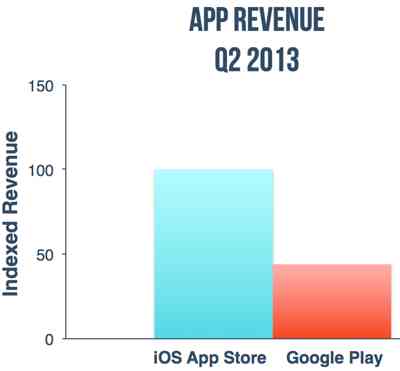 Indian Scenario
Although India is No-3 for Google Play downloads, it does not figure among the top-5 countries for revenues.
Many Indians have disdain for intellectual property of others and piracy of software is rampant in the country.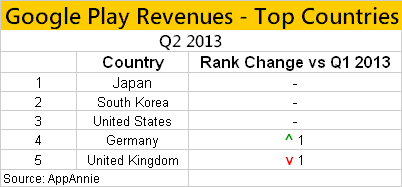 Gaming dominated revenue share for both app stores, accounting for 80% of revenues in Google Play and 75% of revenues in the Apple App Store.
iOS Picture
Apple is unlikely to be worried about Google Play overtaking it in app downloads as long as it continues to rake in higher revenues.
United States retained its top position for iOS downloads and revenues.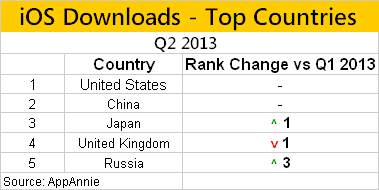 Thanks to carrier subsidies, iPhones are popular in the U.S.
Games, social networking and music were the major revenue categories for Apple iOS App Store.
In the Google Play store, games, communication and social categories were the major revenue generators.