Telugu serial groper Srinivasa Erramilli's desperate bid to avoid jail time has failed with a Chicago judge sentencing him today to nine months in jail for groping a female co-passenger on board a U.S. commercial flight on June 14, 2011.
Erramilli was also fined $5,000, placed on court supervision for a year after he is released from custody and prohibited from flying for 12-months after his release.
The victim, 65-year-old Susan Domino, told journalists outside the Chicago court house that she wished Erramilli's punishment was more severe.
U.S. District Judge Joan H. Lefkow set a hearing for September 18, 2013 on the government's request to revoke Erramilli's bond.
Srinivasa Erramilli, who is an Indian citizen, is subject to deportation to his homeland after being released from custody.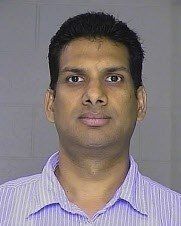 Srinivasa Erramilli
Last December, an Illinois jury convicted Erramilli of abusive sexual contact for groping the inner thigh of the Chicago area woman while they were seated next to each other on a Southwest airlines flight from Las Vegas to Chicago.
The woman and her husband were returning to Chicago after celebrating their 34th wedding anniversary in Las Vegas.
Erramilli was in the middle seat, the victim was seated by the window and her husband was on the other side of Erramilli in the aisle seat so that he could be closer to the rest room.
Erramilli's lawyers tried to get probation and avoid jail time for their client arguing that he had suffered enough from the harsh media publicity and that his business would suffer in his absence.
But there was strong opposition from the prosecution attorneys who asked for Erramilli to be sentenced to 21-months in jail, at the high end of the advisory guideline of 15-months to 21-months, as a deterrence to others.
By imposing a sentence of imprisonment at or near the top of the guideline range, the Court can clearly state that conduct such as the defendant's is serious and will not be tolerated (P.13 of Government Sentencing Memorandum dt August 29, 2013).
In his court filing, Erramilli even mentioned that he had received adverse publicity from SearchIndia.com as a justification for not getting jail time but the prosecution took our side.
In the Government Sentencing Memorandum dt August 29, 2013, the prosecution team wrote that given his past behavior,
[D]efendant was on notice that additional similar conduct could result in public scrutiny.
Erramilli, a software consultant living in Aurora (a suburb of Chicago), is a serial groper and registered sex offender.
Serial Groper
Erramilli's groping started on a flight from Detroit to Chicago in August 1999.
He lay low for a couple of years and then struck again in 2002.
His second groping incident happened on February 7, 2002 on a San Jose (California) to Detroit flight.
The third incident occurred on a flight from Las Vegas to Chicago in June 2011.
While Erramilli managed to escape jail time and received probation for his earlier two breast gropings, his luck ran out after the third incident when he went for the thighs.
Erramilli's riposte when confronted over his groping – She liked it!
But the Chicago jury that convicted him last year and the judge who sentenced him today certainly did not like Erramilli's bad behavior.
Who is Srinivasa Erramilli?
* Srinivasa Eramilli is a Telugu bidda, hailing from the glorious land of Andhra Pradesh in South India.
* Eramilli is 46-years-old (born on August 30, 1967) and a devout Hindu.
* Erramilli is 5-ft 11-inches and weighed about 175-lbs (less after his recent stint in jail).
* Erramilli spent a few weeks in jail recently on immigration charges that were later found to be invalid.
* Srinivasa is named after a popular Hindu God Balaji, Lord of the Seven Hills, beloved of Telugus.
* Like a lot of Telugus in the U.S., Srinivasa Erramilli is also a software consultant.
* Srinivasa Erramilli is associated with an IT company called Product Space Solutions, Inc. in Oak Brook, IL
* Sexual groper Erramilli lives in Aurora (IL), the city where the famous Venkateshwara temple is located and a hot favorite of Telugus, ahead of even Dum Biryani. The distance from Srinivasa Erramilli's home to the Aurora Venkateshwara temple is 7.9 miles with a driving time of 21-minutes.
* Srinivasa Erramilli is married and has two children.
* Erramilli is already a registered Sex Offender, and most likely the first one in the Telugu community.
* Srinivasa Erramilli is an Indian national, working in the U.S. on a H1B Visa. His Green Card application is pending.
* When it comes to groping on flights, Srinivasa Erramilli is not the discriminating type. While his first two sexual incidents were on Northwest Airlines flights, the 2011 incident happened on Southwest Airlines.
* Until his sentencing today, Srinivasa Erramilli was ordered to travel only by car for all business.
Harsh Words for Erramilli
There were harsh words for Srinivasa Erramilli, who brought ignominy and a nine-month jail sentence upon himself for abusive sexual contact on a commercial flight.
Both Chicago Judge Joan H.Lefkow and Erramilli's latest victim, Susan Domino, were unsparing in their criticism of Erramilli over his groping incident in 2011 that caused him to be sentenced today to prison for nine-months.
Erramilli's victim, 65-year-old grandmother Susan Domino, told journalists after Erramilli's sentencing:
I would have chopped his hands off.
Judge Lefkow was no less severe in her criticism of Erramilli today:
One of our fundamental human rights is bodily integrity….What you did was a degradation of that physical integrity.
The judge also had praise for Erramilli's victim Susan Domino:
She was standing up for herself and other woman who were subject to this kind of thing.
No scope for groping women in prison for Srinivasa Erramilli, who still remains free on bond.