A Chicago judge has postponed serial groper Srinivasa Erramilli's sentencing yet again, overruling objections from the prosecution.
This is the third postponement in Telugu bidda Erramilli's sentencing, making it his second hat-trick.
Srinivasa Erramilli's first hat-trick was for three groping incidents on board commercial flights in the U.S.
Erramilli's new sentencing date is September 5, 2013.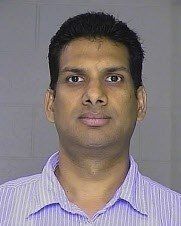 Srinivasa Erramilli
Three Gropings
Telugu bidda Srinivasa Erramilli's notoriety arises from his serial groping on commercial flights in the U.S.
The Andhra native's first groping was on a flight from Detroit to Chicago in August 1999, the second on a San Jose, Calif., to Detroit flight in February 2002 and the third on a flight from Las Vegas to Chicago in June 2011.
While Erramilli managed to avoid jail time for his earlier two breast gropings, his luck ran out after the third incident when he went for the thighs.
On December 13, 2012, an Illinois jury convicted Erramilli of sexually groping the inner thigh of a Chicago area woman while they were seated next to each other on a Southwest flight.
Three Postponements
Erramilli's sentencing was originally scheduled for April 26, 2013 but postponed to June.
Subsequently, his sentencing was deferred to July 30, 2013.
Now it's been pushed back to September 5, 2013.
This is the third postponement in Erramilli's sentencing.
The reason for the third postponement is the same as that given for the second postponement – Erramilli's lawyer Edward Marvin Genson's wife has suffered "a serious and ongoing health condition."
In a court filing on July 11, 2013, Genson said he'd been "arranging for the continued care of his spouse and, as such, requests additional time to file Defendant's sentencing memorandum and prepare for sentencing. "
Judge Lefkow acceded to Genson's request for a fresh sentencing date.
If you plan on attending Erramilli's sentencing on September 5, please note that the sentencing time is 10:30AM and the court room is that of Judge Joan H. Lefkow at the U.S. District Court for the Northern District of Illinois (Eastern Division), Everett McKinley Dirksen Building, 219 South Dearborn Street, Chicago.
Prosecution Objection
U.S. Attorney for the Northern District of Illinois Gary Shapiro is not pleased over the repeated postponements in Erramilli's sentencing.
In an objection filed before Judge Lefkow on July 15, 2013, Shapiro wrote:
The sentencing issues in this case are not overly complex: defendant was convicted of one count with a statutory maximum of four years' imprisonment, the advisory guidelines range as set forth in the Presentence Investigation Report (filed by the probation officer more than four months ago) is 15 to 21 months' imprisonment, and, as noted in the PSR, the probation officer has not identified any factors that would warrant a departure from the applicable sentencing guideline range. In short, the sentencing issues presented in this case appear limited, and the additional months provided to the defense to prepare for the sentencing should be sufficient….[T]he government respectfully requests that defendant's Motion to Continue Sentencing and Date for Filing the Sentencing Memorandum be denied.
But Judge Lefkow overruled Shapiro's objections and granted another postponement in Erramilli's sentencing.
Based on the Presentence Investigation Report, we do not expect Erramilli will serve more than 18-months.
American prisons are strapped of cash and inmates are being released early in several states.
Busy September
September promises to be a busy month for the Telugu diaspora in the U.S.
Besides Erramilli's sentencing, September will also see the commencement of Raghunandan Yandamuri's trial. Yandamuri is lodged in a Pennsylvania prison on charges of killing and kidnapping.
September also marks the release of Telugu film star Ram Charan Teja's first Hindi movie Zanjeer (a remake of wig-wallah Amitabh Bachchan's 1973 movie of the same name).
We thank Telugu billionaire Lord Balaji of the Seven Hills that Ram Charan Teja's Yevadu is releasing in August itself. Otherwise, the September overload would have been too stressful for Telugus in the U.S.!
Srinivasa Erramilli Related Content
Telugu Groper Erramilli Gets a Reprieve
Telugu Bidda Srinivasa Erramilli Loses Battle for Acquittal and Retrial in Groping Case
Telugu Bidda Srinivasa Erramilli Scores Hat-trick in Sky-High Sexual Groping
Srinivasa Erramilli 2011 Indictment
2002 Incident of Srinivasa Erramilli