Telugu bidda Srinivasa Erramilli's appeals process at the U.S. Appeals Court for the 7th Circuit in Chicago against his groping conviction of a 65-year-old grandmother is moving at snail's pace.
I suppose all Telugu biddas must be wondering Why!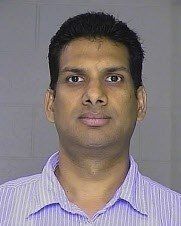 Serial Groper – Erramilli
Srinivasa Erramilli started his appeals process in late September 2013 but there hasn't been much progress over the last six months.
Four Extensions
The main reason behind the lethargic pace in the appeals process is Erramilli's delay in filing the appellant brief (main document outlining the reasons for seeking relief) with the Appeals Court.
Srinivasa Erramilli is trying to get the Appeals Court to reverse the guilty verdict by a jury in the U.S. District Court.
Erramilli was found guilty of felony abusive sexual contact by a federal jury in the U.S. District Court for sexually groping the inner thigh of a Chicago area grandmother while they were seated next to each other on the Southwest flight.
Court documents reveal that Srinivasa Erramilli, 46, has sought extensions on four occasions to file the appellant brief.
Erramilli's latest motion seeking an extension for filing the appellant brief was made on February 27, 2014.
Agreeing to his latest filing, the Appeals Court has now granted Erramilli time until April 4, 2014 to file his appellant brief.
Why Erramilli is seeking multiple extensions for filing the appellant brief is not clear.
One possible reason could be the high cost of litigation.
Or it could be part of Erramilli's game plan to avoid deportation.
At the time of his incarceration, Erramilli's Green Card processing was still not complete.
Erramilli – Release from Prison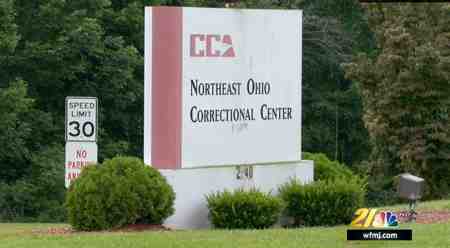 Youngstown Prison – Current Home of Srinivasa Erramilli
(Pix Courtesy: WFMJ)
U.S. District Judge Joan H. Lefkow sentenced Srinivasa Erramilli to nine months in jail following his conviction by a Chicago jury in December 2012.
Besides the prison term, Erramilli was also fined $5,000, placed on court supervision for a year after release and barred from flying for 12-months after his release.
If all goes well, Srinivasa Erramilli, a serial groper on U.S. airlines, will leave his current home at the Federal Prison in Youngstown (Ohio) in four months on July 26, 2014.
A low security facility, the Youngstown prison is operated by a private contractor Corrections Corporation of America on behalf of the Federal Bureau of Prisons.
Telugu bidda Erramilli is one among 1,451 federal offenders serving time at the Youngstown prison.
It remains to be seen if Erramilli will be kicked out of the U.S. after his release.
One hopes the Telugu bidda will learn to be a model citizen, visit the Balaji Temple in Aurora frequently, eat lots of Dum Biryani and refrain from groping grandmothers on airlines. 😉