Telugu bidda and serial groper Srinivasa Erramilli surrendered to the prison authorities on October 30, 2013 to start serving his nine-month prison term for abusive sexual contact (groping a 65-year-old female co-passenger on an aircraft).
The 46-year-old Aurora, IL resident has also filed an appeal in the U.S. Court of Appeals for the Seventh Circuit against his conviction and sentencing by a lower court.
Mention of Erramilli's surrender and the start of his prison term was made in a court filing by his attorneys in the appeals court on October 30, 2013.
Erramilli, a registered sex offender in Illinois, is serving his prison sentence in the federal penitentiary at Lisbon, Ohio.
Erramilli's date of release is July 26, 2014.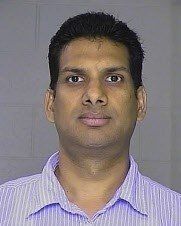 Srinivasa Erramilli
A software programmer from the South Indian state of Andhra Pradesh, Srinivasa Erramilli was sentenced on September 11, 2013 to nine months in jail for abusive sexual contact (groping his female co-passenger) on board a U.S. commercial flight on June 14, 2011.
Erramilli's groping victim was a 65-year-old grandmother, Susan Domino, who was returning with her husband from Las Vegas after celebrating their wedding anniversary.
Erramilli has also been fined $5,000, placed on court supervision for a year after release from prison and prohibited from flying for 12-months after his release.