Telugu Bidda Srinivasa Erramilli, a serial groper on commercial flights in the U.S., will remain a free man for some more time.
Erramilli was supposed to be sentenced on June 12, 2013 but the much anticipated event got postponed
The latest postponement is attributed to Erramilli's lawyer Edward Marvin Genson's wife suffering "a serious, debilitating, and ongoing health condition."
An Illinois jury on December 13, 2012 convicted Erramilli of sexually groping the inner thigh of a Chicago area woman while they were seated next to each other on a Southwest flight.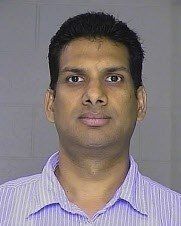 Srinivasa Erramilli
Chicago resident Srinivasa Erramilli's sentencing has now been set for July 30, 2013.
Multiple Postponements
This is the third postponement in Erammilli's sentencing.
Srinivasa Erramilli is a Telugu, hailing from Andhra Pradesh, a South Indian state of with a rapacious appetite for Dum Biryani, and a gargantuan craving for horrid films starring the unheroic 'hero' Allu Arjun.
Some of the most notorious Indian-American criminals have been Telugus – Raghunandan Yandamuri, Lakireddy Bali Reddy and now serial groper Srinivasa Erramilli.
Of course, not all Telugus are criminals.
There are a lot of great Telugus, folks like Kondapalli Seetharamaiah who fought for the less privileged.
BTW, the favorite expression in Telugu films is Champaestanu (I'll kill you).
Make of that what you will! 😉