Jail for Telugu Groper Srinivasa Erramilli
Chicago Telugu bidda Srinivasa Erramilli has lost his court fight for acquittal and a new trial in the Southwest in-flight sexual groping case.
U.S. District Judge Joan Humphrey Lefkow of the Illinois District Court (Eastern Division) recently rejected Erramilli's petition against the jury verdict that found him guilty of abusive sexual contact of his co-passenger on board a Southwest flight from Las Vegas to Chicago in July 2011.
On December 13, 2012, an Illinois jury convicted Erramilli of sexually groping the inner thigh of a Chicago area woman while they were seated next to each other on the Southwest flight.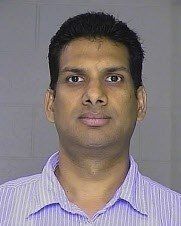 Srinivasa Erramilli
Court Fight
In two court filings on January 31, 2013, Erramilli argued that his conviction was based on inadequate evidence and asked for acquittal and a retrial.
Erramilli also requested that the court vacate the jury's conviction on count II for abusive sexual contact and enter judgment on the lesser included misdemeanor charge of simple assault.
The difference between the two charges is that simple assault omits the intent to cause sexual arousal element.
Erramilli sought a new trial on multiple grounds including that the court erred in admitting his two prior convictions for sexual offenses under Rule 413.
In her ruling, Judge Joan Humphrey Lefkow wrote, "The evidence presented at trial thus did nothing to change the admissibility of the prior incidents."
Bottom line, none of Erramilli's arguments for acquittal and retrial found favor with the court and were all rejected by Judge Joan Humphrey Lefkow earlier this month.
Srinivasa Erramilli
Srinivasa Erramilli hails from the glorious South Indian state of Andhra Pradesh, famous for its Dum Biryani and infamous for its acid-throwing whackos and intolerable Tollywood films featuring baboons howling champaestanu (I'll kill you) at frequent intervals to wild, hysterical bouts of laughter from fans.
Telugu bidda Srinivasa Erramilli is a serial groper who has specialized in in-flight groping.
The Southwest incident was the third time he'd been caught groping a co-passenger on a plane.
When he was caught groping the inner thigh of the woman on the Southwest Airlines flight, the Telugu bidda Erramilli allegedly replied:
You didn't stop me, I thought you liked it.
Erramilli's previous two gropings were restricted to the breasts, an obsession with most Indian young men.
Freudian analysis would likely attribute the male breast fetish to premature weaning!
But SI's more introspective analysis would attribute the breast fetish to the male fixation with any kind of "balls."
See the male fixation with balls of all kinds – basketball, football, baseball, cricket ball etc. Not to forget their biggest ball infatuation,  with their small balls.
After groping his second victim in 2002, Srinivasa Erramilli told an FBI Agent that:
he was excited, and said he had a little bit of an erection. [Illinois District Court Documents, dt 4/4/2013]
Just a little bit?
My, my, here we were thinking that Dum Biryani worked wonders on the Telugu libido.
And all we get with breast groping is a "a little bit of an erection?"
Any other breast groper would have ejaculated a Niagara and flooded the plane!
As the bard would lamentably say, Dum Biryani is all sound and fury signifying nothing! 🙁
Perhaps, we should cut our Dum Biryani intake and enhance consumption of Sambar, Idli and Vada.
Oh, by the way after that "little bit of an erection" from groping the breasts of his co-passenger, Erramilli pleaded guilty in the U.S. District Court for the Eastern District of Michigan to abusive sexual contact for knowingly engaging in sexual contact with Victim C without her permission.
Sentencing Postponed
Srinivasa Erramilli's sentencing date for his Thigh-Land misadventures on the Southwest flight has been postponed by the U.S. District Court for the Northern District of Illinois to 9:30AM on June 12, 2013.
Srinivasa Erramilli's sentencing was originally set for April 26, 2013 after he was found guilty last year of in-flight groping.
This is the second postponement in Erramilli's sentencing.
The sentencing was earlier postponed to June 7, 2013 for reasons best known to Erramilli and the court.
Srinivasa Erramilli faces a maximum sentence of two years in prison and a $250,000 fine.
Don't be surprised if a Tollywood film, Vimanamlo Cheyyi Aatalu (Hand Games on a Plane) is in the works!
Srinivasa Erramilli Related Content
Telugu Bidda Srinivasa Erramilli Scores Hat-trick in Sky-High Sexual Groping
Srinivasa Erramilli 2011 Indictment
2002 Incident of Srinivasa Erramilli