Jail for Telugu Groper Srinivasa Erramilli
Telugu sex offender Srinivasa Erramilli has scored a hat-trick, albeit a dubious hat-trick, for sexual misbehavior with women on three occasions in America while on a flight.
An Illinois jury convicted Erramilli Thursday of sexually groping the inner thigh of a Chicago area woman while they were seated next to each other aboard a plane from Las Vegas to Chicago in June 2011.
Erramilli, who was convicted twice previously of nearly identical crimes, was found guilty of felony abusive sexual contact by a federal jury Thursday following a three-day trial in U.S. District Court.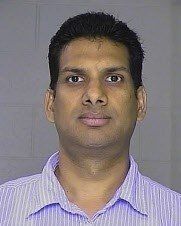 Srinivasa Erramilli
Who is Srinivasa Erramilli?
* Srinivasa Eramilli was born on August 30, 1967.
* Erramilli is 5-ft 11-inches and weights about 175-lbs
* Srinivasa is named after a popular Hindu God Balaji, Lord of the Seven Hills, beloved of Telugus.
* Like a lot of Telugus in the U.S., Srinivasa Erramilli is also a software consultant.
* Erramilli hails from Andhra Pradesh, homeland of Telugus before they discovered America.
* Srinivasa Erramilli is associated with an IT company called Product Space Solutions, Inc. in Oak Brook, IL
* Sexual groper Erramilli lives in Aurora (IL), the city where the famous Venkateshwara temple is located and a hot favorite of Telugus, ahead of even Dum Biryani. The distance from Srinivasa Erramilli's home to the Aurora Venkateshwara temple is 7.9 miles with a driving time of 21-minutes.
* Srinivasa Erramilli is married and has two children.
* Erramilli is already a registered Sex Offender, and most likely the first one in the Telugu community.
* Srinivasa Erramilli is an Indian national, working in the U.S. on a H1B or L visa.
* When it comes to airlines, Srinivasa Erramilli is not the discriminating type. While his earlier sexual incidents were on Northwest Airlines flights, the 2011 incident happened  on Southwest Airlines.
* Until his sentencing in April, Srinivasa Erramilli must travel only by car for all business.
What did Telugu Bidda Erramilli Do?
The U.S. Attorney for the Northern District of Illinois said that evidence at Erramilli's trial showed he was the last passenger to board a Southwest Airlines flight to Chicago's Midway Airport on June 14, 2011.
Erramilli was seated in the only open seat available between the victim, who had chosen a window seat to sleep during the flight, and her husband, who had chosen an aisle seat to enable easier access during the flight. The couple had traveled to Las Vegas for their 34th wedding anniversary!
The victim, who was wearing shorts during the flight, testified that Erramilli groped her three times aboard the plane.
The first time she awoke to feeling something brush against her thigh; the second time, she testified that she awoke to feeling "pressure" on her thigh.
The third time, the victim testified that Erramilli placed his hand up the leg of her shorts and then rubbed and grabbed her inner thigh.
She struck Erramilli and yelled at him after realizing that he had been groping her. Other passengers and flight attendants also testified during the trial.
Erramilli – A Fondness for Breasts
Srinivasa Erramilli is a serial sexual groper with a fondness for groping breasts on flights.
The jury heard testimony from another victim who was seated in the row in front of Erramilli when he fondled her breast on a flight from Detroit to Chicago in August 1999. Erramilli pleaded guilty to battery in Cook County in 2000 and was sentenced to two years' probation and five days' community service.
In 2002, Erramilli was sentenced in Federal Court in Detroit to three years' probation after he was convicted of abusive sexual contact for groping the breast of yet another woman aboard a flight from San Jose, Calif., to Detroit.
Why the Repeated Incidents?
The big question is why Srinivasa Erramilli keeps getting into serious trouble over the same type of bad behavior.
Erramilli is a Senior Software Consultant suggesting he is well qualified with two decades of experience behind him.
Ignorance of law is certainly not a factor here given Erramilli's previous brushes with law enforcement.
So is Srinivasa Erramilli's aberrant behavior a case of compulsive neurosis where people have little control over their actions?
People with Bipolar Disorder also tend to engage in reckless sexual behavior.
It's not known if Srinivasa Erramilli suffers from any medical issues.
Erramilli Ousts Telugu Masturbator as King-Fish
Srinivasa Erramilli is not the first Telugu to get into serious trouble for sexual misbehavior on a plane in the U.S.
A few years back, another Telugu bidda Murali Krishna Nookella pleaded guilty for exposing his dick on a plane.
But Nookella is a small-time dickhead compared to the king-fish Srinivasa Erramilli.
Srinivasa Erramilli – Punishment
The sentencing of Srinivasa Erramilli (45) is set for April 26, 2013.
Srinivasa Erramilli faces a maximum sentence of two years in prison and a $250,000 fine.
After completing his sentence, Srinivasa Erramilli will most likely be deported to his homeland India.
Srinivasa Erramilli – Court Documents:
Srinivasa Erramilli 2011 Indictment
2002 Incident of Srinivasa Erramilli