Devyani Khobragade is in a hot soup following her arrest in New York City today on charges of Visa fraud.
If you're wondering Who the heck is Devyani Khobragade?, here are the essential facts:
1. Devyani is undoubtedly the hottest looking officer in the entire Indian Foreign  Service. To put it politely, most Indian diplomats look like the cat unloaded last night's dinner on their faces. Thank God for an exception like Devyani! 😉
2. Devyani is 39-years-old, and, if I may say so, looks not a day older than 19. Devyani makes Katrina, Kareena, Sonakshi, Meenakshi et al look like hags!
3. Devyani is a multi-millionaire with property running into crores of rupees.
4. Devyani is an illegal beneficiary of an apartment at the scandal tainted Adarsh Housing Society in Mumbai.
5. Devyani is a fan of Hollywood star Jim Carrey and follows him on her Twitter account. I must say Devyani has good taste. I'd have committed harakiri if she were 'following' Salman Khan or one of the other Bollywood chutiyas!
6. Devyani belongs to the Scheduled Caste (Dalit) community, a priceless advantage in Modern India since it allows community members to get into medical schools, civil services, IITs and IIMs even if they have poor grades.
7. Devyani joined the Indian Foreign Service in 1999. With postings in Germany, Pakistan, New Delhi and New York City, Devyani is a veteran of the diplomatic corps.
8. I was sure after seeing Devyani's svelte figure that the lady practiced Yoga. And indeed the lady lists Yoga as one of her interests!
9. Devyani Khobragade is a Deputy Consul General for Political, Economic, Commercial and Women's Affairs at the Consulate General of India in New York City. I bet even you schmucks already knew that.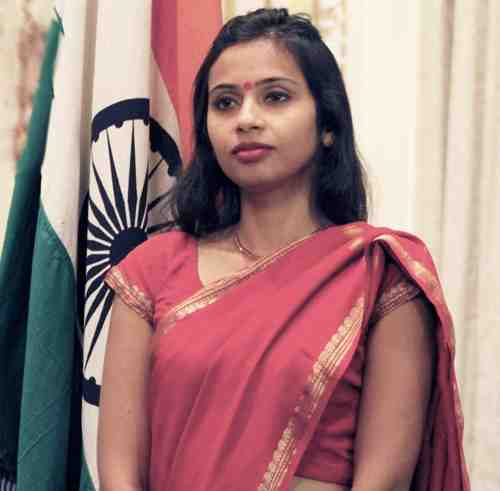 Indian Diplomat Devyani Khobragade @ India Independence Day Function
(Photo Courtesy – Devyani Khobragade's Twitter Account)
10. If I were to guess Devyani's vital stats, I'd say: 34-24-34! Hey, I'm not her tailor! But that's just my feverish imagination running amok based on ogling at some of her pics.
11. Devyani studied at St. Joseph's Convent School, Jalgaon, Maharashtra. That's what I call General Knowledge, priceless information valuable to moving ahead in life!
12. If I were a Bollywood director, in a heartbeat I'd have picked Devyani for a movie titled, ahem, Devyani – Dil ki Rani.
13. Devyani must either be very good in her work or well connected because the NYC Consulate posting is a plum job in the Indian Foreign Service.
14. Devyani probably is a big fan of Dum Biryani Vada Paav and Samosa Chaat, popular street food in Mumbai since she hails from the city (the lady was born in Tarapore). Now you know why I love Samosa Chaat! 😉
15. Devyani Khobragade's husband is a Professor of Philosophy. Philosophy, OMG? Seriously, what's wrong with the man!!!!! Well, I suppose people who can't become Professors of Library Science become Professors of Philosophy! 😉
16. Devyani is doing poorly on Twitter (as of December 12) with just 35 followers! Disgusting! Even that duffer Abhishek Bachchan has 3.26 million followers. And Bollywood bad boy Salman Khan has 5.7 million followers hanging on to every piece of nonsense dropping from his lips. Seriously, Indians have poor taste. If I had tons of money, I'd buy a billion 'followers' for Devyani!
17. Devyani's last Tweet (December 3, 2013) – I am a helping to change the way the world sees arts education (sic). "a helping"  – I want to know her English teacher's name! BTW, wonder who's 'a helping' Devyani now?
18. Want Devyani's e-mail address? Ha ha, I bet you drooling scoundrels do. But I'm not gonna hand it out.
19. Devyani won a scholarship to UK's Chevening Rolls-Royce Science and Innovation Leadership Program in 2012. This gal is one smart lady, I tell you! Not like you schmucks.
20. Devyani's father Uttam Khobragade is a retired IAS officer from Maharashtra. Big shot father, big shot daughter.
21. Like Devyani, her father Uttam Khobragade also landed in a big controversy (Adarsh Housing Society scandal).
22. Devyani's uncle Dr. Ajay Gondane too serves in the Indian diplomatic corp as an IFS officer.  Ajay is currently High Commissioner of Papua New Guinea. I bet Papua New Guinea is smaller than Goregaon (a suburb of Mumbai)!
23. Like Uncle, Like Niece! Devyani's uncle Ajay Gondale also served as Deputy Consul General in the Indian Consulate at New York, as recently as 2010.
24. Devyani is a medical doctor. If I lived in NYC, I'd visit Devyani every day with all kinds of imaginary ailments (primarily, heart problems). Alas, I live 250 miles away. 🙁
25. Devyani has two daughters, six and three. Obviously, Devyani believes in the Indian family planning slogan Hum do, Hamare do (We two, ours two)
26. Devyani's first posting was in Germany and her most challenging posting in Pakistan. How can Pakistan not be challenging in anything. Heck, Pakistan's very existence is challenging to India, Afghanistan, USA and even to itself!
27. Devyani's profile on a conference web site says she wishes to contribute towards Dalit and gender equality in her country, and remains engaged with these issues. But the complaint against Devyani filed in a NYC court alleges she paid her Indian maid Sangeeta Richard $3.31 per hour far, far, far less than the minimum wage in New York City.
28. Devyani did her MBBS at Seth G.S Medical College and K.E.M Hospital, Parel in Mumbai and obtained her seat under the Reservation quota for Scheduled Castes.
29. If Devyani is convicted/found guilty, she'll be the first Indian diplomat in the U.S. to go to prison! If you ask me, I'm wagering there's a 50-50 chance of her wearing stripes.
I bet you dolts found all this information about Devyani Khobragade invaluable and a big help in forging ahead with your useless lives. 😉