Indian diplomat Devyani Khobragade, who was arrested Thursday morning on charges of Visa fraud and making false statements about wages to her maid, was released in the evening on a bail bond of $250,000.
Devyani pleaded not guilty to the Visa fraud and making false statements charges in a NYC court.
Media reports say Devyani had to surrender her passport to U.S. authorities as a condition of the bail.
Devyani is Deputy Consul General for Political, Economic, Commercial and Women's Affairs at the NYC Indian Consulate.
The Indian government has already swung to Devyani's defense by way of a statement put out by the Indian Embassy in Washington DC.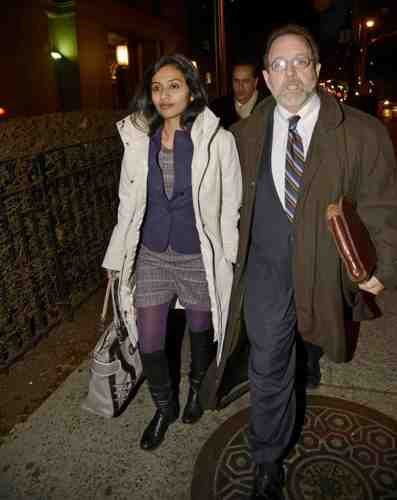 Devyani Khobragade Leaving a Manhattan Court
(Photo Courtesy: NY Daily News)
It seems Devyani Khobragade did not comment to reporters after her release from custody.
But the New York Daily News said her attorney Daniel Arshack argued that his client should enjoy diplomatic immunity. "We do not at this time agree that my client is subject to prosecution," Arshack said.
Unless the Indian government pressures the U.S. government to ease up on the court case against Devyani, she faces a hard legal road ahead of her.
Devyani should be considered innocent unless and until proven guilty.