I've never been in doubt that India is populated mostly by parasites and scavengers feeding on carrion, both animal and human.
When it comes to scavenging, Indians are, of course, peerless zombies.
All carcass is grist to the Indian scavenging mill.
600% Jump – Devyani Twitter
Take for instance the scandal tainted NYC Indian diplomat Devyani Khobragade, who was arrested recently by U.S. authorities on charges of Visa fraud and making false statements on her maid's wages.
On the day of her arrest, December 12, just five days back, Devyani's Twitter following languished at a measly 35.
A ridiculously low number. Hell, even SI has 50. 😉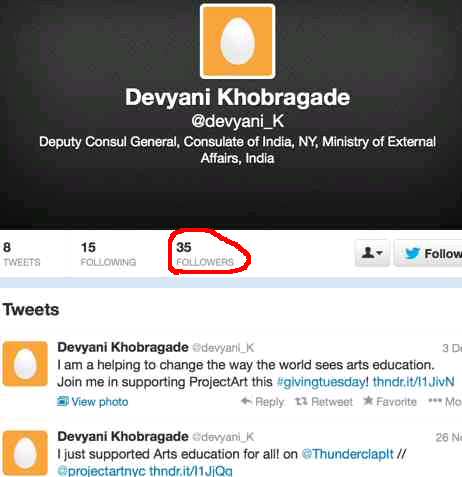 Devyani's Twitter Followers – 35 (above) on Dec 12, 2013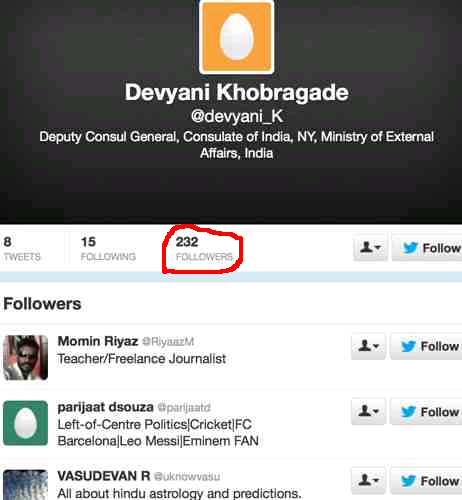 Devyani's Twitter Followers – 232 (above) on Dec 17, 2013
Post Devyani's arrest, her following has increased to 232, an increase of nearly 600%.
Up 1,200%
When I last checked (at 8:40AM ET Wednesday), Devyani's Twitter follower count had increased to 454, an increase of 1,200%.
Insurance peddlers, underachievers, Hindus, Christians, Muslims, astrologers, pseudo-philosophers, Manmohan Singh followers, Manmohan Singh haters, students and an assorted bunch of bottom-feeding Indian whackos have jumped on Devyani's carcass.
Is there a message here somewhere for social media specialists? 😉
Mera Bharat Mahaan!